With the 2010 edition, All About Energy has established itself as the biggest Renewable Energy related event in Brazil. Now, it is quickly becoming one of the most important events in Latin America.
With the 2010 edition, the All About Energy has established itself as the largest renewable energy event in Brazil. Not only it has the Ceará State Government as co-organizer through the Department of Infrastructure - SEINFRA and Development Agency State of Ceará - ADECE, but it also counts with the presence of major companies operating in the renewable energy sector.

Aimed at the international and national markets, the event will bring together into one area companies from different segments of the renewable energy sector, such as Solar, Wind, Biomass, Biofuel, SHP among others. All About Energy 2011 will be an effective channel for the consolidation of strategic networking to establish partnerships and conduct business transactions.
In addition to the technical-scientific speakers and the expo with national and international companies, the All About Energy promotes a series of parallel initiatives which provide an effective dynamic for the exchange of experiences, such as the Business Rounds and the R&D Circuit. Included in the 2011 program, the R&D Circuit is an exclusive area of integration between companies that have resources for research and seek projects to invest, and researchers who have commercially viable works.
With all that, the All About Energy is becoming, edition after edition, a showcase for multidisciplinary researches with renewable energy related topics, in order to provide the market with expanding technologies.
Featured Product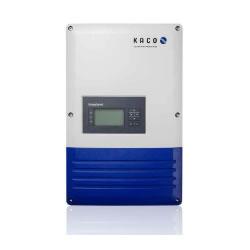 Small size, light weight, great features, best value! With a line-up of 1-phase transformerless units, KACO new energy will be inaugurating the new "blueplanet" solar PV inverter series. Newly designed and constructed from scratch, the blueplanet TL1 fulfil the highest requirements for optimum use in residential solar power plants.