Free Breeze Energy recently received the "go ahead" to market new V47 & V39 blades in sets of 3!
Free
Breeze Energy is the marketing arm of OEM, RRB Energy, India (formerly VESTAS RRB). RRB manufactures the very popular PS600 (formerly Vestas V47 PS600) with an optional 39M blade diameter. Free Breeze and RRB realise that there is a definite, need driven market for V47 and V39 replacement blades and therefore decided to offer these blades separately in sets of 3 commencing May 1, 2011. These OEM blades are manufactured to the same exacting standards on the original Vestas blade machines installed there in 2001. Call or write for a quote, 519-885-4311 - info@freebreeze.com.
Featured Product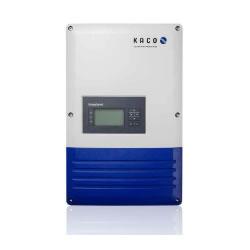 Small size, light weight, great features, best value! With a line-up of 1-phase transformerless units, KACO new energy will be inaugurating the new "blueplanet" solar PV inverter series. Newly designed and constructed from scratch, the blueplanet TL1 fulfil the highest requirements for optimum use in residential solar power plants.