Registration extended to allow for additional participation from universities abroad
WASHINGTON, DC - November 1, 2011 - The 2012 Hydrogen Student Design Contest,Combined Heat, Hydrogen, and Power, has announced an extension of the deadline to register and submit abstracts until November 15. With this extension, universities abroad whose semester start later in the year will be able to participate in the Contest, while the U.S. Department of Energy's Fuel Cell Technology Program Manager can stimulate additional student participation at this week's Fuel Cell Seminar.

Fourteen universities have already registered, including the University of California, Berkeley, University of South Carolina, Washington State University, and universities from China, Turkey, India and Spain.
A November 4 webcast will provide an overview of the Rules & Guidelines and will feature a CHHP expert to describe the system and answer technical questions. Students may register for the webcast here >>.
The 2012 Contest will challenge students to design a tri-generation system that yields heat, hydrogen, and power, while utilizing local resources.
This year's Contest is supported by the U.S. Department of Energy, the Environmental Protection Agency's Combined Heat and Power Partnership, the International Association for Hydrogen Energy, and the World Hydrogen Energy Conference 2012.
Registration remains open until November 15, 2011 for teams of university students worldwide at www.hydrogencontest.org. Official Rules and Guidelines for the Contest are available on the website.
For more information on the Contest, please contact:
Emanuel Wagner, Hydrogen Education Foundation
ewagner@ttcorp.com
+1-202-223-5547 x360
# # #
About the Hydrogen Student Design Contest
Organized by the Hydrogen Education Foundation, the annual Hydrogen Student Design Contest challenges university-level students to develop innovative solutions to key issues facing the hydrogen and fuel cell industries. The Contest showcases the talents of students in many disciplines, including engineering, architecture, marketing, and entrepreneurship. www.HydrogenContest.org
About the Hydrogen Education Foundation
The Hydrogen Education Foundation promotes clean hydrogen energy technologies through student scholarships, innovative national competitions, and educational programs to encourage environmental stewardship, improve energy security, and create green jobs. www.HydrogenEducationFoundation.org
Featured Product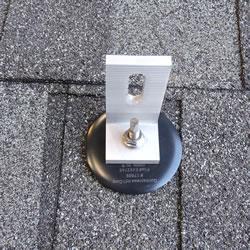 The QuickBOLT is THE affordable mounting solution for Asphalt Shingle Roofs. Not only is it the lowest cost system in the industry, it also maintains the fastest install time of any mounting system available. Unlike other Asphalt Mounting systems that require bulky flashing, the QuickBOLT uses a small EPDM washer and is 100% waterproof! Part # 17672