Ms. Hamm to contribute to meeco's growth with magnificent professional experience
The meeco Group is pleased to announce that Ms. Claudia Hamm has joined the group as the new

Head of the Project Pipeline Team starting 1st November 2011. Ms. Hamm has been working in the
Renewable Energy sector, in wind and solar, since 2002 and thus gained magnificent experiences in
this fast growing industry.
"Claudia Hamm has been working in a core position with meeco's partner a+f GmbH, the creator of
the famous SunCarrier systems and integral part to Gildemeister Energy Solutios, for several years.
She was a pivotal part of the project screening and project planning department at a+f and thus
brings extensive experience in the field of project processing, technical planning, and project quality
assurance into meeco", explains Jo Hanns Dieter Trutschler, Sales Director of the meeco Executive
Board.
"Claudia will take over the guidance and management of the project pipeline team as her core
responsibility. In this position, she will from now on accompany projects from first sight to
implementation and subsequent operations, create project quality together with the country teams
and steer the project qualification work", Mr. Trutschler continues.
The fact that Ms. Hamm has been working for The meeco Group's partner - a+f GmbH, these past few
years, will certainly contribute to strengthening the relationship with this major partner. "We are
happy to have Ms. Hamm among us as she will help us to reinforce the growth and development of
The meeco Group as a partner of a+f GmbH and beyond", Mr. Trutschler concludes.
The meeco Group team welcomes Ms. Hamm and wishes her all the best for her new responsibilities.
Featured Product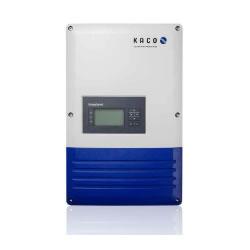 Small size, light weight, great features, best value! With a line-up of 1-phase transformerless units, KACO new energy will be inaugurating the new "blueplanet" solar PV inverter series. Newly designed and constructed from scratch, the blueplanet TL1 fulfil the highest requirements for optimum use in residential solar power plants.