DropBox Inc. has worked tirelessly to create custom containerized solutions to house a wide variety for power products including inverters, batteries, and control systems for the power generation industry.
DropBox, Inc. is the most experienced container modification company in the US when it comes to installing power storage equipment (lithium-ion batteries, racks and switchgear equipment) inside of shipping containers.

The recent push for green energy production and smart grid technology has increased the need for mobile or modular switchgear / inverter and power storage equipment dramatically.
The experience that the DropBox, Inc. team has gained over the past 15 years of modifying shipping containers, coupled with DropBox's past 2 years of experience in modifying shipping containers specifically to receive switchgear equipment, inverters and rechargeable batteries (lithium-ion and others), make our group the power industry's number one choice for containerized power products.
DropBox is a shipping container modification specialist with emphasis in the following areas:
- equipment population & integration
- cooling system design and installation
- container water tightness
- man door designs
- louver installation
- Control System installation and design
- fire suppression system design and installation
- Codes (UL, IEEE, NEC, etc)
- Container structural analysis including Finite Element Analysis (FEA),
- PE Stamped Electrical and Mechanical
- 3D Modeling and design
- Rack system design and analysis
- ISO Container recertification for international shipments
- and other attributes needed to support containerized power products
You may visit our Power Storage Module webpage at: http://www.dropboxinc.com/containerized-grid-stabilization-systems
Featured Product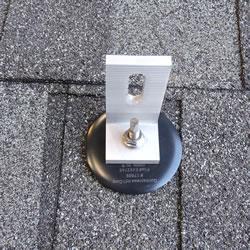 The QuickBOLT is THE affordable mounting solution for Asphalt Shingle Roofs. Not only is it the lowest cost system in the industry, it also maintains the fastest install time of any mounting system available. Unlike other Asphalt Mounting systems that require bulky flashing, the QuickBOLT uses a small EPDM washer and is 100% waterproof! Part # QBKit2