The new ClimateMaster Trilogy™ 40 Series geothermal heat pump is the first to be certified by the Air Conditioning, Heating, and Refrigeration Institute (AHRI) as exceeding 40 EER at ground-loop (GLHP) conditions.
OKLAHOMA CITY, April 12, 2012 - ClimateMaster announces its efficiency breakthrough in the new Trilogy™ 40 series, which is the first series of geothermal heat pumps certified by the Air Conditioning, Heating, and Refrigeration Institute (AHRI) to exceed 40 EER at ground-loop (GLHP) conditions.

The revolutionary new Trilogy™ 40 utilizes variable-speed technology to provide an extremely wide range of heating and cooling capacities, with the ability to perfectly match loads to as low as 30 percent of maximum. In addition, patent-pending Q-Mode™ technology produces year-round domestic hot water on demand, even when space conditioning is not required.
The Trilogy 40 Q-Mode series is the outcome of a five -year collaboration between ClimateMaster and Oak Ridge National Laboratory (ORNL), which was sponsored by the U.S. Department of Energy (DOE) Building Technologies Program. Based on field tests and analysis by ORNL, the Trilogy 40 Q-Mode can save 55 to 65 percent of annual energy use and cost for space conditioning and water heating in residential applications versus new minimum efficiency (SEER 13) conventional systems, and 30 to 35 percent versus current state-of-the-art two-stage geothermal heat pumps.
"ClimateMaster has a solid track record of leadership and innovation since its founding in 1957," said ClimateMaster president Daniel Ellis. "We are very proud to continue that legacy with the launch of the new Trilogy 40, which is 33 percent more efficient than any other geothermal heat pump available, and the only one with Q-Mode technology to provide year-round water heating."
In addition to efficiency, the Trilogy 40 Q-Mode delivers unsurpassed comfort and humidity control by precisely matching its capacity to the heating and cooling load. For installing and servicing contractors, it also offers the latest technology to configure and diagnose the system electronically using communicating controls and sensors that monitor every critical aspect of system operation to ensure peak performance.
"The Trilogy 40 Q-Mode represents a major breakthrough in comfort and efficiency," said John Bailey, senior vice president of sales and marketing at ClimateMaster. "With a variable speed fan, pump and compressor (Trilogy technology) plus four operating modes (Q-Mode technology), it far exceeds the capabilities of any other HVAC unit on the market today. Plus, it can completely eliminate the use of auxiliary heat, even in far Northern climates."
The Trilogy 40 Q-Mode series is currently in limited production, with full availability scheduled for late this year.
ClimateMaster, Inc. is the leading manufacturer of geothermal and water-source heat pumps, which are considered to be the most energy efficient and environmentally friendly type of heating and cooling systems available on the market today. Headquartered in Oklahoma City, Ok, ClimateMaster, Inc. is a wholly owned subsidiary of LSB Industries, Inc. whose common stock is traded over the New York Stock Exchange under the symbol LXU.
For more information, visit www.climatemaster.com.
-# # #-
Featured Product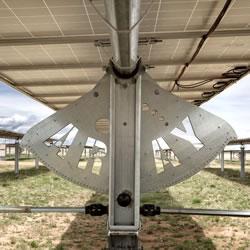 With more than 2 gigawatts shipped around the world and 25 years of experience, Array Technologies, Inc. (ATI) ensures value, reliability, and bankability for your solar project through its proven ground mount tracking and racking solutions. ATI's leading products, DuraTrack HZ single-axis horizontal solar tracker and DuraRack fixed-tilt rack, combine a minimization of materials with rugged reliability to promote rapid installation times and project longevity. From the frozen tundra of Alaska to the deserts of Chile, ATI provides high quality solar tracking and racking solutions for every location and environment. ATI's industry-leading engineering and project management is included with each utility-scale and commercial project to provide a fully-supported and customized solution for your project. For more information on our products and services, please stop by Intersolar North America booth 9725.