Former SunCarrier Services subsidiaries in Spain, Italy and Greece will be named meeco
April 16, 2012

In line with its continuous global business activity expansion process, the Board of Directors of The
meeco Group has decided to rename its country subsidiaries in Alicante (Spain), Milan (Italy) and
Athens (Greece). The adopted renaming strategy chosen is a local one, and as such, SunCarrier
Services Spain, Italy and Greece will be respectively renamed meeco España, Italia and Hellas.
Jo Hanns Dieter Trutschler, Sales Director of The meeco Group explains: "Our group has been actively
pursuing a diversification of its business activities over the last 3 years and as a consequence, large
PV projects are no longer a key focus. We felt that now the right moment in time has come to reflect
the expanded business path in how we present ourselves to clients and stakeholders, which is why we
chose to review our strategic brand identity orientation. The meeco Group of today and tomorrow
offers much more than just SunCarrier installations and projects. meeco is active in many markets
around the globe with products and solutions from its sun2go, sun2water, sun2grow and sun2com
line and works closely with project developers, businesses, governments, technology providers and
EPC contractors to structure, finance and commission highly bankable renewable energy projects."
"By providing the optimal set of services and solutions for each project, we minimize the investment
required and maximize return on investment for clients and stakeholders. This goes way beyond
SunCarrier and our former main partner, a+f GmbH. The SunCarrier technology will remain
nevertheless an important part of meeco's products but it will be complemented with a wide range of
other top-tier renewable energy technologies."
By renaming three of its subsidiaries to match the rest of the companies' naming structure, the Swiss
leader in PV-based clean energy makes a step forward into consolidating a global brand identity while
still keeping its golden "acting local" rule in markets with strong identities such as Spain, Italy and
Greece. The services and solutions offered by The meeco Group in these markets include:
• "clear" Advisory Services: strategic consulting, project services and financial advisory
• "oursun" Turnkey Solutions: grid connected, off-grid, portable and energy storage solutions
• Asset Management: on-going site support for clean energy projects
For more information please visit: www.meeco.net
Featured Product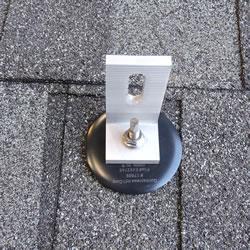 The QuickBOLT is THE affordable mounting solution for Asphalt Shingle Roofs. Not only is it the lowest cost system in the industry, it also maintains the fastest install time of any mounting system available. Unlike other Asphalt Mounting systems that require bulky flashing, the QuickBOLT uses a small EPDM washer and is 100% waterproof! Part # QBKit2