Powerway shared its new pre-assembled design concepts with customers, making it a highly successful and fruitful event
Powerway Renewable Energy participated for the first time in the South Africa Power & Electricity Exhibition held in Sandton Convention Centre, Johannesburg, on March 27 and 28. It was an opportunity for the company to show off its PowerScrew and Power Tracker systems, which are made in association with Green Sources Technology, the biggest and most experienced tracking system provider in Asia.

In addition, Powerway shared its new pre-assembled design concepts with customers, making it a highly successful and fruitful event. Our company was not only warmly received by existing customers, but our representatives made important contacts with many new and outstanding EPC companies such as Siemens, Schneider, Tenesol, First Solar, SunEdison etc.
The world is rapidly learning the Ground Screw system is available for all types of soil conditions. Customers understand its strength lies in low production costs, fast installation, and no long waiting times for drying, since no concrete foundation is needed. Our product is ecologically friendly because it does not damage the environment; hence Ground Screw is the ideal solution for any South African PV Plant.
Regarding the Solar Tracker, attendees at the conference learned that it is ideally suited to South Africa because of the long hours of daylight and sunshine, which can help improve power efficiency by 30%. All this sheds a positive light on the PV Industry. As far as pre-assembly is concerned, this advancement can save 50% of installation time, which lowers costs by an equally high percentage.
Working in conjunction with the South African government's BBBEE program, Powerway is setting up a manufacturing base and training center in Kimberly and De Aar, opening in early June. Powerway will be the first BBBEE-compliant solar farm builder in South Africa.
About Poweway:
Powerway Renewable Energy Co. Ltd, which markets its products under the brand "Powerway", is a leading solar farm builder, and one of the world's leading solar mounting structure suppliers for PV industry. With over 20 years of metal fabrication experience, combined with its strong engineering team, cut-edge production facility in Foshan, China, Powerway has set up installation teams not only in several strategic locations in China, but also in India, South Africa, Europe, and now in USA and in Japan. Powerway has set the footprint in South Africa to set up local manufacturing and installation facilities in order to meet the local content requirement of South Africa. Details, please see www.pvpowerway.com
Featured Product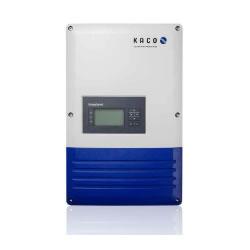 Small size, light weight, great features, best value! With a line-up of 1-phase transformerless units, KACO new energy will be inaugurating the new "blueplanet" solar PV inverter series. Newly designed and constructed from scratch, the blueplanet TL1 fulfil the highest requirements for optimum use in residential solar power plants.