Courses aim to educate and train future scientists, engineers and researchers
RENO, Nev. – With the growth of geothermal energy production gaining momentum, scientists, engineers and students are looking this summer toward the University of Nevada, Reno for the second annual National Geothermal Academy.

The University was chosen to host the eight-week session of courses last year by a cooperative of top geothermal schools due to its expertise in geothermal research and exploration and the abundance of geothermal activity in Nevada. Nevada has the largest amount of geothermal energy of any state in the nation, with local and national leaders pledging support and funding to help develop the technology necessary to both increase energy production and reduce its cost.
Last year the academy attracted a global audience due to increased demands for geothermal energy across the world.
"The National Geothermal Academy is drawing a strong student audience again in 2012, and international participation has increased significantly," said Wendy Calvin, Director of the Great Basin Center for Geothermal Energy. "We are creating a program that will benefit geothermal development not just in the state, but nationwide and worldwide."
The academy runs from June 18 to Aug. 10, and features a wide variety of geothermal professionals and professors, including personnel from Cornell University, the University of Calgary, Southern Methodist University, the Oregon Institute of Technology, Stanford University, the University of Utah, and West Virginia University, as well as recognized industry leaders and consultants.
Attendees will visit a number of geothermal power production sites and plants to learn about the engineering and financing aspects of geothermal production. Topics covered during the eight-week course include geothermal energy utilization, geothermal geology and geochemistry, geophysics, drilling and reservoir engineering, power plant design and construction and environmental policy principles.
For more information about the academy, visit http://www.unr.edu/geothermal/NGA.htm.
Photo cutline: Students from the 2011 National Geothermal Academy explore steaming fissures on the Ormat Steamboat Springs property just south of Reno. This sinter terrace is characteristic of past geothermal geyser activity. Photo by Wendy Calvin, University of Nevada, Reno.
Nevada's land-grant university founded in 1874, the University of Nevada, Reno has an enrollment of 18,000 students and is ranked in the top tier of the nation's best universities. Part of the Nevada System of Higher Education, the University has the system's largest research program and is home to the state's medical school. With outreach and education programs in all Nevada counties and with one of the nation's largest study-abroad consortiums, the University extends across the state and around the world. For more information, visit www.unr.edu
Featured Product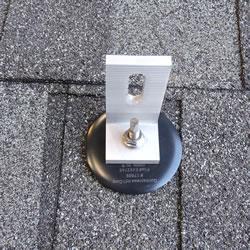 The QuickBOLT is THE affordable mounting solution for Asphalt Shingle Roofs. Not only is it the lowest cost system in the industry, it also maintains the fastest install time of any mounting system available. Unlike other Asphalt Mounting systems that require bulky flashing, the QuickBOLT uses a small EPDM washer and is 100% waterproof! Part # 17672