Tidal Power Can Make the U.K. a Green Energy Leader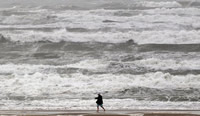 Mark Gilbert for Bloomberg: The U.K. government is mulling whether to support a 1.3 billion pound ($1.6 billion) proposal to build a tidal lagoon in South Wales. It should stop dithering and subsidize the project to help meet the country's green energy goals, produce cheaper power, and establish Britain as the world leader in technology that harnesses the power of the tides to generate electricity.
The U.K. lost its energy independence in 2004, and now depends upon imports to meet about half of its energy needs. And while the contribution from renewable energy sources has climbed to a bit less than 10 percent from about 1 percent at the start of the last decade, the U.K. commitment to reduce carbon emissions to 57 percent of their 1990 levels by 2030 means even less electricity needs to come from coal-fired power plants. Cont'd...
Comments (0)
This post does not have any comments. Be the first to leave a comment below.
---
Post A Comment
You must be logged in before you can post a comment. Login now.
Featured Product
Visit Booth #2886 at AWEA Windpower, May 22-25 in Anaheim, CA to see how Parker products, systems and services help you raise performance while reducing risk in wind energy environments. Parker has been on the forefront of windpower for over two decades, with solutions that touch virtually every critical function in the turbine. From integrated lube oil filtration systems and sealing technologies that make drive trains more reliable and bearings operate like new to compact blade pitch actuation systems that maximize rotor efficiency and minimize vibrations in the turbine. Parker has the solutions that make today's advanced and sophisticated wind power plants better and smarter. Case in point? Our high efficiency power conversion systems that deliver optimum power to the grid. While our scalable evaporative cooling system lowers overall system cost with up to 40% higher power throughput.