WasteTech-2013: The 8th International Trade Fair and Conference for Waste Management, Recycling, Environmental Technologies and Renewable Energy
Trade fair profile/conference topics:

Waste management and recycling
(with specialized exposition ScrapExpo - ferrous and non-ferrous metal scrap recycling)
Renewable energy - REnergo – waste-to-energy and bioenergy (biomass, biogas).
Waste water treatment and sludge management. Public toilets
Air-pollution control - LuftTech
Soil remediation
Industrial cleaning
"Green" construction
Improvement of territories. Street cleaning, operating and snow removal. Planting of trees and gardens.
Monitoring, control and analysis - EcoLab
Labour safety
Featured Product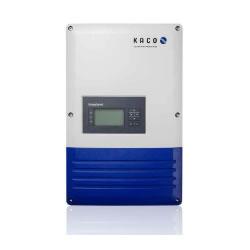 Small size, light weight, great features, best value! With a line-up of 1-phase transformerless units, KACO new energy will be inaugurating the new "blueplanet" solar PV inverter series. Newly designed and constructed from scratch, the blueplanet TL1 fulfil the highest requirements for optimum use in residential solar power plants.