The combined capacity of both wind farms of 126 MW will be sufficient to provide ecofriendly electricity to 80,000 Irish households.
Siemens Energy has received an order for delivery and servicing of 42 direct-drive wind turbines for two onshore wind power plants. Purchaser is the Irish utility Bord na Móna. The order encompasses 28 SWT-3.0-101 direct-drive wind turbines for the Mount Lucas wind farm, located in County Offaly, around 80 kilometers west of Dublin and 14 SWT-3.0-101 direct-drive wind turbines for the Bruckana wind power plant located on the border of Kilkenny and Tipperary, around 120 kilometers south-west of Dublin. These turbines, each with a rating of 3 megawatts (MW) and a rotor diameter of 101 meters, are scheduled to begin feeding power into the grid by mid 2014. The combined capacity of both wind farms of 126 MW will be sufficient to provide ecofriendly electricity to 80,000 Irish households.

"This is the first order from Ireland for our direct-drive wind turbines. Globally, we have already sold more than 800 wind turbines of this type for on- and offshore wind power plants. With this innovative technology we contribute to the development of a sustainable energy supply in Ireland," said Felix Ferlemann, CEO of the Wind Power Division of Siemens Energy. The Republic of Ireland has excellent wind conditions. According to the Irish Wind Energy Association (IWEA), the country already has an installed wind generation capacity of about 2,000 MW today.
Siemens will supply, install and commission the 42 direct-drive turbines for the Mount Lucas and Bruckana wind power plants and will also provide service for the plants over a period of 15 years.
Long-term service programs like this offer the customers more projectable service costs and a prolonged warranty.
Wind power is part of Siemens' Environmental Portfolio. In fiscal 2011, revenue from the Portfolio totaled about €30 billion, making Siemens one of the world's largest suppliers of ecofriendly technologies. In the same period, our products and solutions enabled customers to reduce their
carbon dioxide (CO2) emissions by nearly 320 million tons, an amount equal to the total annual CO2 emissions of Berlin, Delhi, Hong Kong, Istanbul, London, New York, Singapore and Tokyo.
The Siemens Energy Sector is the world's leading supplier of a broad spectrum of products, services and solutions for power generation in thermal power plants and using renewables, power transmission in grids and for the extraction, processing and transport of oil and gas. In fiscal 2012 (ended September 30), the Energy Sector had revenues of EUR27.5 billion and received new orders totaling approximately EUR26.9 billion and posted a profit of EUR2.2 billion. On September 30, 2012, the Energy Sector had a work force of almost 86,000. Further information is available at: www.siemens.com/energy.
Featured Product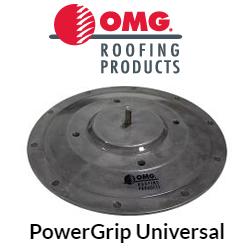 PowerGrip Plus Roof Mount System, a watertight structural attachment system used to secure ballasted solar racks and other equipment to roofs covered with thermoplastic (TPO and PVC) membranes. PowerGrip Plus is designed with wind performance in mind and offers ultimate tensile strength of 2,000 lbf. and ultimate shear strength of 1,075 lbf. Properly installed PowerGrip Plus units reduce rack movement and remaining watertight. PowerGrip Plus units are easy to install, saving both time and labor when compared to alternative options. A wide membrane skirt promotes easy welding in place, and the 15/8 diameter and 1/2 inch tall mount provides an optimal perch for securing brackets or struts. The exposed 1 inch tall and 3/8 inch diameter bolt and mounting stand are made from corrosion-resistant stainless steel and aluminum alloy for superior long-term performance.