SOLARCUBE announced today an increase of international sales of the company's innovative PV KIVO mounting systems,and the establishment of a new office location in California, further expanding it's global footprint and brand awareness.
San Diego, CA January 17, 2013

SOLARCUBE experienced a year of significant growth in the development of international solar projects in 2012; with corporate regional expansions in the United States, Europe and India, completing over 280 solar projects in 9 countries, totaling well above 50MW of renewable energy production, supported by the KIVO mounting systems.
"Our end-of-year internal performance report for 2012 provided a positive outlook, and reaffirmed our sales growth and market development for the United States. We are also very pleased with the addition of a new SOLARCUBE office in San Diego, assigned to service and support our growing client base in North, Central and South America." said Mr. Panos Bitarchas, CEO of SOLARCUBE.
"We are looking forward to another bright year for the family of the SOLARCUBE companies; with new strategies to introduce our products furthermore in growing and emerging markets and continuing the pursuit of innovation in R&D of solar mounting design", added Mr. Bitarchas, " The supply of mounting systems at four California solar installations and the completion of a 2MW project in India, just in the month of December 2012, along with the multiple European projects, are strong indications of a promising future for the newest members of the SOLARCUBE family" he concluded.
About
SOLARCUBE designs innovative PV mounting equipment and provides experienced Solar engineering services for commercial, utility and residential PV projects. The company partners with the industry's premier manufacturers, integrators and project developers to deliver custom-designed solutions, using it's world-tested mounting technology and years of collective experience in PV development, delivering reliable and cost efficient installations.
Featured Product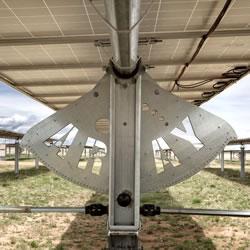 With more than 2 gigawatts shipped around the world and 25 years of experience, Array Technologies, Inc. (ATI) ensures value, reliability, and bankability for your solar project through its proven ground mount tracking and racking solutions. ATI's leading products, DuraTrack HZ single-axis horizontal solar tracker and DuraRack fixed-tilt rack, combine a minimization of materials with rugged reliability to promote rapid installation times and project longevity. From the frozen tundra of Alaska to the deserts of Chile, ATI provides high quality solar tracking and racking solutions for every location and environment. ATI's industry-leading engineering and project management is included with each utility-scale and commercial project to provide a fully-supported and customized solution for your project. For more information on our products and services, please stop by Intersolar North America booth 9725.