TCI will provide H5 Active Harmonic Filters to meet utility IEEE-519 requirements. The H5 units will provide clean power back on to the utility grid and allow the utility to provide clean power to its customer base.
Over 1700, 2 Axis, Mirror Heliostats using variable speed postioning drives will be used at the Solar Reserve Crescent Dunes facility in Tonopah, Nevada.

TCI has completed a harmonic analysis study and will provide the harmonic filters to reduce both current and voltage harmonic content below 5% TDD.
Featured Product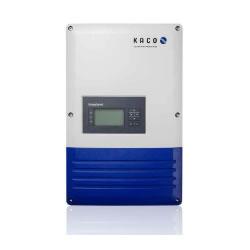 Small size, light weight, great features, best value! With a line-up of 1-phase transformerless units, KACO new energy will be inaugurating the new "blueplanet" solar PV inverter series. Newly designed and constructed from scratch, the blueplanet TL1 fulfil the highest requirements for optimum use in residential solar power plants.