As one of the leading companies in photovoltaic industry, with years of experience in megawatt PV power plant construction - both at home and abroad - Powerway is confident of its optimistic forecasts of future energy demand. Based on this vision of the solar future, we have set up a new screw-pile production line and continue to vigorously promote the construction of ground PV power systems.

In order to facilitate our customers, when they are selecting the specific screw pile that meets their individual needs, we have developed special software that allows clients to select the appropriate screw-pile online.
With this software, customers simply enter the soil type of the project area, wind pressure, snow load, and component arrangement. The software will then recommend the most suitable screw pile and calculate the most suitable pile parameters, including screw pile length, wall thickness, zinc coating thickness, spiral chip specifications, and so on.
 Our software helps customers choose the correct screw pile, and also gives them a better understanding of the entire design process. For more information, please visit: http://www.power-groundscrew.com/supports/simulator.html
About Powerway
Powerway Renewable Energy Co., Ltd is dedicated to providing turnkey solutions to solar farm developers and EPC contractors worldwide. With our stringent design systems, fully automated production lines, professional project management team, and comprehensive solar farm construction experience, Powerway has successfully completed more than 600 MW of solar farms worldwide.
Featured Product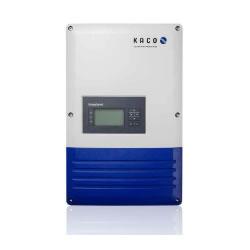 Small size, light weight, great features, best value! With a line-up of 1-phase transformerless units, KACO new energy will be inaugurating the new "blueplanet" solar PV inverter series. Newly designed and constructed from scratch, the blueplanet TL1 fulfil the highest requirements for optimum use in residential solar power plants.