The Global Electricity Initiative (GEI) today welcomes 15 CEOs from the world's major electrical utilities onto its board of advisors.
London, 27 August 2013

The Global Electricity Initiative aims to provide a platform to enable the increase in electricity access in a sustainable and affordable manner. It will showcase the early voluntary actions by industry to increase access to affordable, reliable and environmentally friendly electricity, by uniting the resources and knowledge from the world's electrical utility community.
Philippe Joubert, Executive Chair of the Global Electricity Initiative, says: "CEOs see the GEI as a privileged platform to express their views regarding the transition of the energy system. Having the significant support from these CEOs shows how important they consider sustainable energy."
Brian Dames, CEO of Eskom, the South African utility which spearheaded the inaugural GEI report at COP-17 in 2011, and who chairs the GEI Advisory Board, comments: "The electricity utility community plays a critical role in enabling electricity access and responding to sustainable development challenges. We stand united in supporting GEI's mission."
GEI's first findings will be discussed at the 22nd World Energy Congress in Daegu, South Korea, at an exclusive GEI roundtable with the CEOs of the world's leading utilities on 17 October. After the Congress, GEI will build on their recommendations and present the initiative's core findings to key energy leaders and ministers.
GEI is a partnership between the World Energy Council (WEC), the World Business Council for Sustainable Development (WBCSD), and the Global Sustainable Electricity Partnership (GSEP) – three of the world's largest energy and sustainability networks. The alliance was announced at COP-18 in Doha, and the project is being carried out with support from Deloitte South Africa.
Research on electrical utilities' experience is underway, with surveys already sent out to more than 100 leaders of electrical power utilities covering over 50% of the global generating capacity.
Mr Joubert says: "We hope that GEI will pave the way for more efficient and sustainable company strategies and government policies, while establishing a global benchmark to demonstrate and share best practices for decision-makers. This will lay the foundation for a global electricity sector leaders' community."
He adds: "We would like to encourage more utilities to take part in our global study."
GEI's Industry Leaders Advisory Board is tasked to provide the initiative with strategic guidance and industry insights. It includes the following chief executives:
*Brian Dames (Chair), Eskom, South Africa
*Nick Akins, American Electric Power, US
*Andrew Brandler, CLP Holding Group, Hong Kong
*James E. Rogers, Duke Energy, US
*Hervé Machenaud, EDF Group, France
*Ali Hassan Ibrahim, Egyptian Electricity Holding Company, Egypt
*José da Costa Carvalho Neto, Eletrobras, Brazil
*José Antonio Vargas Lleras, Endesa SA, Spain
*Thierry Vandal, Hydro-Québec, Canada
*Sam Amadi, Nigerian Electricity Regulatory Commission, Nigeria
*Arup Roy Choudhury, NTPC, India
*Evgeny Dod, RusHydro, Russia
*Peter Terium, RWE, Germany
*Saleh H. Alawaji, Saudi Electricity Co., Saudi Arabia
*Liu Zhenya, State Grid Corporation of China
Featured Product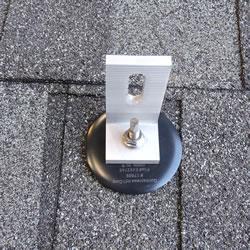 The QuickBOLT is THE affordable mounting solution for Asphalt Shingle Roofs. Not only is it the lowest cost system in the industry, it also maintains the fastest install time of any mounting system available. Unlike other Asphalt Mounting systems that require bulky flashing, the QuickBOLT uses a small EPDM washer and is 100% waterproof! Part # 17672