This hereby invention is related with the electronic thermometer, which displays the temperature of the water inside the tank of the water heating solar collector.
The aforementioned invention is related with the temperature sensor, placed on the water tank, which is used to know the temperature of the water inside the water tank of the solar collector without any need to tap the water, the thermometer, which is preferably placed at the kitchen, the thermometer temperature sensor connection cable, thermometer rack, the temperature value display, which is located onto the frame of the thermometer, cold water indicator (blue led light), warm water indicator (yellow led light), how water indicator (red LED light) and the electronic thermometer with thermometer on switch component.

Featured Product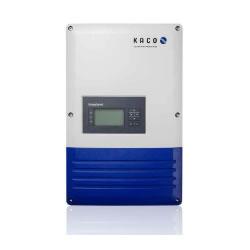 Small size, light weight, great features, best value! With a line-up of 1-phase transformerless units, KACO new energy will be inaugurating the new "blueplanet" solar PV inverter series. Newly designed and constructed from scratch, the blueplanet TL1 fulfil the highest requirements for optimum use in residential solar power plants.