Imperial Irrigation District announces the promotion of Marc Printy, a 25-year veteran in the energy business with extensive experience in dispatching energy transmission and generation for IID, to the position of systems operations manager for energy.
In his new role, Printy will manage and provide strategic direction for IID's energy system operations, including transmission and distribution operations, generation balancing, open access transmission, energy management system, electric system cyber security and customer service restoration processes in compliance with Western Energy Coordinating Council and Federal Energy Regulatory Commission regulations.

Printy began his career at the district as a power dispatcher in 2001, rising to the positions of assistant superintendent and general superintendent for transmission and dispatch. He will start his new job on Jan. 13.
"The district needs an experienced person who knows the IID system very well," said Carl Stills, energy manager. "With Marc's qualifications and time at the district, he will play a critical role in helping us protect our balancing authority while making sure the lights stay on for our customers."
Printy is a 2010 graduate of the University of Phoenix where he earned a Bachelor of Science in business administration. Before joining IID, he worked as a control operator in the geothermal divisions at Unocal and CalEnergy.
Featured Product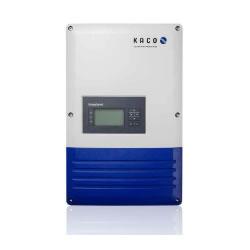 Small size, light weight, great features, best value! With a line-up of 1-phase transformerless units, KACO new energy will be inaugurating the new "blueplanet" solar PV inverter series. Newly designed and constructed from scratch, the blueplanet TL1 fulfil the highest requirements for optimum use in residential solar power plants.