As a newcomer to the New England market, EthoSolar was one of the featured honorees at MassEcon's Corporate Welcome Reception
(Barrie, Ontario, Canada – April 23, 2014): EthoSolar was recently welcomed into the private sector community of Massachusetts by MassEcon at their annual Corporate Welcome Reception, which took place in Cambridge on April 16th. MassEcon is a non-profit, non-partisan entity that serves as the state's private sector partner in promoting Massachusetts as the premier choice for business growth. The event showcased both national and global organizations that are developing a presence within the state. EthoSolar was in good company with fellow-honorees including Facebook, Emirates, Great Wolf Lodge, and McGraw-Hill Education to name just a few.

As a solar solutions provider with a demonstrated history of success in the Ontario market, EthoSolar has been developing offerings in the US with an office based in Marlborough, Massachusetts.
"Our mission is to use the current solar incentives to create long-term sustainability and profitability for locally owned companies and communities. Massachusetts provides an ideal legislative and business environment in which to serve our core clientele and we are happy to serve here" says Ethan DeSota, EthoSolar's regional representative. "We believe that we can offer a better and more profitable ownership alternative to the current trend of leases and PPA solutions available within Massachusetts."
More on EthoSolar: Established in 2009, EthoSolar is North American 360-degree solar solution provider. EthoSolar offers complete grid-tied fixed and tracking PV solar solutions for both roof and ground mount systems. EthoSolar has installed over 7 MW of solar projects serving commercial, agriculture and residential markets. In 2012 EthoSolar expanded its operations to respond to the increasing demand for solar in the U.S. and is now focusing on the New England market. EthoSolar is dedicated to making each investment in clean, renewable energy as profitable and seamless as possible. www.ethosolar.com
Featured Product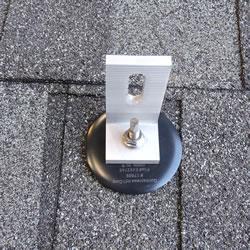 The QuickBOLT is THE affordable mounting solution for Asphalt Shingle Roofs. Not only is it the lowest cost system in the industry, it also maintains the fastest install time of any mounting system available. Unlike other Asphalt Mounting systems that require bulky flashing, the QuickBOLT uses a small EPDM washer and is 100% waterproof! Part # 17672