Acquisition Enables Immediate Expansion of Off-grid and Battery Backup Solutions
San Diego, California April 29, 2014

Equal Earth, Inc. a San Diego based clean energy solutions provider today announced that it has acquired Green Tiki Power, a solar-focused renewable energy contracting business serving California and Hawaii. Green Tiki Power specializes in commercial and residential grid-tied solar and off-grid solar, delivering affordable alternatives to utility power through innovative solar lease and loan financing.
"Acquiring Green Tiki Power deepens Equal Earth's solar off-grid and battery backup capacity," stated Equal Earth Chairman, President and CEO Andrew Duggan. "We see significant, aggressive growth in this market as more customers look for options to completely replace their utility company," added Duggan.
Off-grid solar solutions including battery backup allow for customers to sever ties completely with their utility company, enabling them to control their own energy costs. Having a choice not dictated by monopoly pricing is not only more cost effective for customers, but also allows protection against future utility price increases.
Equal Earth provides homeowners and business owners with easier and more cost effective energy solutions. Customers are able to have a clean energy system installed with no out-of-pocket costs to them. Instead of purchasing the system upfront, customers simply make monthly payments that are significantly less than what they are paying right now.
About Equal Earth
Equal Earth is the premier clean energy solutions provider servicing commercial and residential customers in California, Colorado, Hawaii, Guam and Fiji. Our mission is to provide homeowners and business owners with an easy, straightforward alternative to the expensive utility rates they currently pay. Our customers enjoy a fast, simple and streamlined approach to both grid-tied and off-grid solar systems, LED lighting conversions, energy management, wind and saving money without the burden of any upfront costs. For more information, visit http://www.EqualEarthCorp.com
Featured Product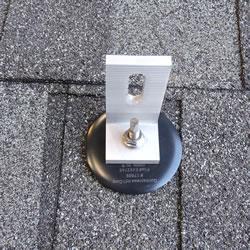 The QuickBOLT is THE affordable mounting solution for Asphalt Shingle Roofs. Not only is it the lowest cost system in the industry, it also maintains the fastest install time of any mounting system available. Unlike other Asphalt Mounting systems that require bulky flashing, the QuickBOLT uses a small EPDM washer and is 100% waterproof! Part # QBKit2