Advanced PV Project Experience - Be a Solar Pro! 5-day Advanced Workshop at ImagineSolar's Solar Lab in Austin, Texas.
ImagineSolar is proud to announce a new product offering: The Advanced PV Project Experience. This 5-day workshop focuses on the Professional-level PV Design & Project Implementation skills needed to become a professional in the solar industry.

The Advanced PV Project Experience gives participants professional-level, hands-on understanding of system design scenarios, electrical code applications, and project field implementation.
Spend 5 days at our training center and solar lab in lovely Austin Texas and finish with the solar savvy to take the next step in your solar career.
Nov 1st-5th | Jan 31st-Feb 4th:
Talk to a Solar Career Pathfinder:
512/443-5725
Featured Product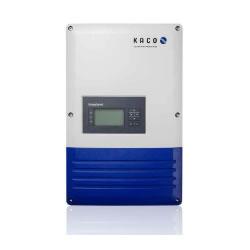 Small size, light weight, great features, best value! With a line-up of 1-phase transformerless units, KACO new energy will be inaugurating the new "blueplanet" solar PV inverter series. Newly designed and constructed from scratch, the blueplanet TL1 fulfil the highest requirements for optimum use in residential solar power plants.