It will generate enough electricity to power up to 5,400 homes in the UK; the planning consent obtained enables the firm to commence construction in November 2014. In September, OPDE obtained permission to develop a 10.8MW solar farm in Crewkerne. The two projects form part of OPDE's development pip
OPDE, a multinational solar company specialising in the development, investment and operation of solar photovoltaic plants, has obtained planning consent for a new 18MWp solar farm located near the town of Iwade in Kent, England.

This approval comes shortly after the planning consent obtained for a 10.8MWp solar farm in Crewkerne, Somerset, and further consolidates the company's position as a big player in the UK PV market.
The project adds to a 12MWp solar farm in Alresford, Hampshire, which was successfully connected in March 2014, and two other facilities with construction starting soon: a 6.8MWp farm in Hothfield, Kent, and an 8.9MWp one in East Sussex, South East England. With these farms, amounting to 56.6MWp, and the projects whose development is about to begin, OPDE gets closer to reaching its 100MW goal for the UK by March 2015.
In addition to its strong presence in the UK, OPDE is also highly active in the development, investment and operation of new solar farms in other international markets, including Mexico and Brazil.//
Featured Product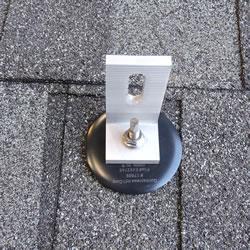 The QuickBOLT is THE affordable mounting solution for Asphalt Shingle Roofs. Not only is it the lowest cost system in the industry, it also maintains the fastest install time of any mounting system available. Unlike other Asphalt Mounting systems that require bulky flashing, the QuickBOLT uses a small EPDM washer and is 100% waterproof! Part # 17672