EcoFasten Solar and Alpine SnowGuards are looking forward to seeing you in New Orleans!
The 2015 International Roofing Expo is February 24-26, and these 2 teams are excited to be a part of the action!

You already know EcoFasten Solar designs, engineers, and manufactures solar roof mounts for every roof type, but did you know that their Sister Company, Alpine SnowGuards designs, engineers, and manufactures snow management systems, also for every roof type? They've even developed the strongest solar snow management system on the market - Solar SnowMax!
The top 3 installers in the country rely on EcoFasten Solar, and with good reason:
Patented, watertight compression technology
Fastest, easiest installs in the industry
Cost-effective solutions for all roof types, new or retrofit
Top-notch technical team rich with knowledge
All products are made in Vermont, USA, and always have been
Check out their complete product line at www.ecofastensolar.com, request a free sample, or email info@ecofastensolar.com with any questions you may have.
Interested in learning more about Alpine SnowGuards? View their product line at www.alpinesnowguards.com, or request a free sample. For additional info or questions, feel free to email info@alpinesnowguards.com
They'll see you at IRE, where they will share booth space in adjoining booth #'s 127 and 226.
Featured Product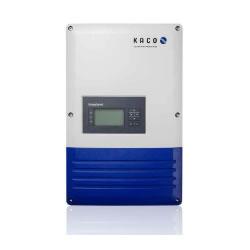 Small size, light weight, great features, best value! With a line-up of 1-phase transformerless units, KACO new energy will be inaugurating the new "blueplanet" solar PV inverter series. Newly designed and constructed from scratch, the blueplanet TL1 fulfil the highest requirements for optimum use in residential solar power plants.