Finance platform closes CAD $68MM term loan and CAD $47MM fixed rate notes for Ontario solar projects, also closes USD $121MM for California solar facilities
SAN FRANCISCO—3.20.15—Renewable Energy Trust Capital, Inc. (RET Capital) today announced the close of over $200MM in financing for four solar projects in the U.S. and Canada.

The independent renewable finance platform focused on lowering the cost of capital for renewable energy developers and other industry stakeholders closed a CAD $115MM non-recourse debt to support the acquisition of two solar facilities in Ontario, Canada. The company closed a non-recourse term loan, fixed rate notes and letter of credit facility in December 2014 with NORD/LB Norddeutsche Landesbank Girozentrale in Hannover and Massachusetts Mutual Life Insurance Company (MassMutual), securing a total of CAD $115MM in financing to acquire the 12.6 megawatts (MW) DC DiscoveryLight and 14.2 MW DC FotoLight projects from Canadian Solar. The projects provide power to the Ontario Power Authority under 20-year feed-in-tariff contracts.
RET Capital also announced that it had closed two additional non-recourse debt financings — totaling $121MM — related to the acquisition of two solar facilities in California representing more than 44 MW DC.
Working with financial partners NORD/LB and MassMutual, RET Capital closed a non-recourse term loan and letter of credit facility in April 2014, securing a total of $86.2MM in financing to acquire the 31.26 MW DC McHenry Solar PV Plant in Modesto, California. The company purchased the solar facility from K Road Power Holdings LLC, closing the financing and acquisition concurrently.
RET Capital closed a non-recourse term loan, letter of credit facility and 1603 cash grant loan with KeyBank National Association (NYSE: KEY) in June 2014 to acquire the 13.1 MW DC Heber Solar PV project in Imperial County, California. KeyBank provided a total credit facility of $35.2MM.
"NORD/LB, MassMutual and KeyBank have contributed strongly to our recent accelerated growth. We look forward to working with these creative financial partners and others in the future as we continue our growth through 2015 and beyond," said John A. Bohn, Chief Executive Officer and Chairman of RET Capital.
In addition to the Ontario and California assets noted, in the past several weeks RET Capital has completed the acquisition of three other operating solar PV systems in Georgia.
RET Capital's lead investor is BlueMountain Capital Management, LLC, an investment firm focused on the global credit markets and equity derivatives markets.
About RET Capital
RET Capital, with offices in New York and San Francisco, is an independent finance platform established to lower the cost of capital for qualified developers and other industry stakeholders by providing reliable takeout financing. Focusing on the middle market and working toward standardization, RET Capital helps facilitate accelerated growth in the North American renewable marketplace. RET Capital works closely with selected Asset Partners to establish long-term relationships with developers, engineering, procurement and construction firms and utilities to provide growth velocity, predictability and improved margins. RET Capital works with its Asset Partners to tailor a suitable acquisition strategy and provide predictable takeout financing for development liquidity. The RET Capital team endeavors to meet its Asset Partners' objectives through innovative ways to structure and design portfolio acquisition and joint ownership opportunities. www.renewabletrust.com
Featured Product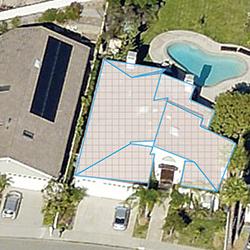 EagleView Technologies offers Pictometry® Intelligent Images® and analytical tools for 360° views of every property. After closing the sale, Solar Roof Reports deliver detailed measurements and CAD files for precise solar installation. Learn more at www.eagleview.com/solar