The redesigned website features new service offerings, product information, case studies, media archives and technical information about Corvus Energy's award winning energy storage products and services.
February 10th 2016- Richmond, B.C. - Corvus Energy, the leader in energy storage solutions for maritime industries has launched a new website featuring improved navigation, product and service information, detailed case studies and media archives.

New features include:
• Detailed Product Information - Technical Specifications on the Corvus Energy Storage System (ESS)
• Customer Service Offerings - A range of new services helping customers to get maximum value from their ESS
• Case Studies - Learn about Energy Storage Systems deployed in tug, ferries, offshore vessels and port equipment
• Featured Articles - Explore in depth articles written about Corvus Energy by leading industry publications
"Our website has always been an important way for us to share information about Corvus energy storage technology with customers and visitors alike," said Andrew Morden, President & CEO of Corvus Energy. "The redesigned website has a new look and improved functionality to ensure an easier and more engaging experience for users. The new application-driven content is designed to guide visitors quickly to the energy storage solutions best suited for their specific needs."
To see Corvus energy storage systems deployed worldwide follow this link. corvusenergy.com
About Corvus Energy
Corvus Energy provides high power energy storage in the form of modular lithium ion battery systems. Its purpose built, field proven battery systems provide sustained power to hybrid and fully electric heavy industrial equipment, including large marine propulsion systems. For more information visit www.corvusenergy.com
Featured Product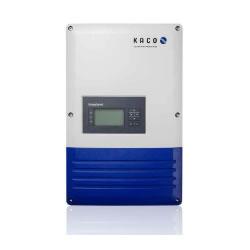 Small size, light weight, great features, best value! With a line-up of 1-phase transformerless units, KACO new energy will be inaugurating the new "blueplanet" solar PV inverter series. Newly designed and constructed from scratch, the blueplanet TL1 fulfil the highest requirements for optimum use in residential solar power plants.