Alternative Energy Industry Newsletter - Dec 2011


Last One This Year - Happy Holidays!
---

Rolls has been producing premium batteries specifically designed for the renewable energy market since 1984.  That's why those who can't afford to go without power know they can't afford to trust anyone else.
www.rollsbattery.com
>>> Articles
Building Integrated Photovoltaics Impacts the Glass and Glazing Industry
12/19/11, Richard D. Voreis , Consulting Collaborative
Selling PV modules in their product package of glass and fenestration products represent a very significant sales potential increase for glass and glazing subcontractors. On a related matter, many PV modules can be glazed directly into the fenestration products without any modification to either product.
MIT Energy Initiative: With changes, U.S. electric grid can hold up to expected challenges
12/19/11, David Chandler, MIT News Office
MIT report shows that with new policies, U.S. electric grid could handle expected influx of electric cars and wind and solar generation.
Solar Infrastructure Codes
12/19/11, Juan Suarez, Unirac
Unirac is a strong advocate for developing new codes for solar infrastructure, and has been working closely with the International Code Council Evaluation Service to develop new performance standards for racking and mounting systems. Unirac's new SolarMount (E)volution residential roof mount PV racking system, launched at Solar Power International in October, is currently being evaluated by ICC-ES. Unirac is the first company to apply for an ICC ESR under ICC-ES AC428.
Striking Balance – How the Solar Industry Benefits From the U.S. & China
12/19/11, Robert D. Hansen and Stephanie A. Burns, Dow Corning
The solar industry is ready for its moment in the sun: Here at home, we hope fairness prevails so that the investigatory process proceeds without acrimony, political overzealousness or protectionism; at stake are U.S. jobs, U.S. exports, and U.S. consumer benefits for a strategically important U.S industry
Solar Technology Comparison Study
Wastewater Engineering Building – LEED Gold Certified
12/19/11, Third Sun Solar
Both thin film and crystalline solar technologies provide reliable and impressive energy production performance. While it is well known that amorphous silicon modules suffer lower performance loss in high temperatures and low light conditions, this study reveals that the differing mounting requirements of each system more than offset this cell-type difference. As a result, with commonly-used commercial mounting solutions, crystalline modules actually outperform thin film modules in energy production per rated watt.
Read More Articles in the Current eMagazine
---

Introducing Trojan's Industrial Line - Trojan's Industrial Line of deep-cycle batteries is the newest addition to Trojan's lineage of high-quality batteries for renewable energy and backup power applications.
Designed to support large daily loads where the batteries are cycled regularly, Trojan's Industrial Line is ideal for a wide range of photovoltaic systems. 
>>> Hot Story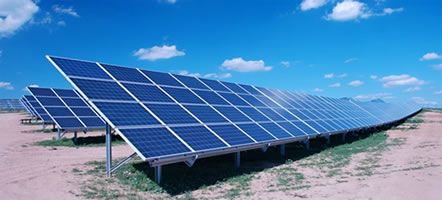 A recent report by Bloomberg New Energy Finance demonstrated that, in spite of plunging stock prices, investment in utility scale renewable energy was higher in Q3 than in any other quarter and up by 16% compared to this time last year. The second shock of the report was that it was the US cleantech sector taking the lead in terms of investment, overtaking the usual front runners Europe and China. This seemingly positive news is however tainted with some worries from investors and the cleantech sector. Some believe Solyndra's high profile collapse will affect government support of renewable incentives, whilst others expect the expiry of the Treasury cash grant at the end of the year to dampen the development of utility scale projects. Building upon Bloomberg New Energy Finance's findings, Green Power Conferences and the Solar Power Generation USA congress invited over 35,000 professionals from the solar and finance communities to take part in a 5 minute survey to assess industry confidence for 2012. Despite expected difficulties in the market, over 60% of respondents thought that investment in the utility scale solar sector would increase in 2012, whilst 20% thought it would stay the same as 2011 levels.
>>> Hot Product
The TF-800 horizontal single axis tracker is a utility scale, reliable tracking system that will increase the yield of photovoltaic panels by up to 25%. The TF-800 incorporates an advanced programming feature that reverses the motion of the tracker to eliminate inter-row shadowing, allowing for bigger systems to be installed in a smaller areas. A complete 10 kW system can be assembled in less than 4 hours without the need of special machinery, tools or welding in the field.
---

REC is a leading vertically integrated player in the solar energy industry. Ranked among the world's largest producers of polysilicon and wafers for solar applications, and a rapidly growing manufacturer of solar cells and modules.
www.recgroup.com/
>>> Industry Forums

Please take a moment to add a comment or start a new topic for our community for the Alternative Energy Industry. We are happy to host your conversations, news and advice.
If you have ideas for new topics, methods or features, don't hesitate to voice them. We have set up what we think are some important forums but this is just the beginning so we need your input and participation to make it grow into a valuable source of information.
>>> The Next Big Thing?
The Robotics industry is booming.
Join us as we launch into a new adventure. RoboticsTomorrow is a community website where those of you who work or are interested in the Robotics Industry are invited to contribute articles, news and product information for your peers to read and discover. Just like AltEnergyMag, our philosophy is to create an outlet where the industry can report on itself.
You'll find the same familiar features that you expect from us including:
Robotics eMagazine with articles focused on the industry, contributed by experts from around the globe
News page for recent Press Releases
Hot stories reported from around the industry
Find or promote Robotics Companies, Products and Events
If you are interested in contributing an article, interview or case study for publication please email us at info@roboticstomorrow.com.
Read More - RoboticsTomorrow
>>> Upcoming Sponsored Events
>>> Self Serve Marketing Features
Publish Your Story at AltEnergyMag
The process is very simple. Just email the article (news@altenergymag.com) along with any diagrams, photos etc. that you wish to have included. Length is not restricted. We do all the formatting and title graphics etc. and then let you preview the finished product before it goes live.  Biographies and company links can also be included.

Please bear in mind that we seek educational articles focusing on the technologies and benefits to readers rather than simple product cut sheets and promotional material.
Publish Your News
Just copy and paste news stories
Free Service
Google News Source
Free Company Directory Listing
Click Here to get started
Self Marketing Program
Enhanced Company Listings, Hot Product Listings, Enhanced News Publication Services, Special Event News Reports, Discounts and Special Offers
Send eMail to sales@altenergymag.com for details
---
Tell your friends about this newsletter. Keep up to date with the Alternative Energy Industry and all the new products it involves.
Please help us thank our sponsors and keep this resource free by visiting their websites and telling them you saw their ads at altenergymag.com.
Many thanks for your continuing support.

Bob Hetherington bobh@altenergymag.com
You are subscribed to our Newsletters as [email]
We have many options for email subscriptions. This will insure that you receive content specific information in a timely manner. Please click the "Manage your subscription" link in the footer of this message. Then click "View my profile" to select the content you wish to receive. This information can be updated at any time. Our goal is to provide the information you want when you want it.
We look forward to staying connected.