Alternative Energy Hot Products - Solar Energy
Sun Bandit® is a revolutionary new way in which solar is used to heat water. This innovative new technology utilizes PV technology to deliver clean, reliable hot water by putting the free energy of the sun to work for you in ways that makes owning a solar system more practical and affordable than ever before. Achieving energy independence has never been easier than with a Sun Bandit® Solar Hybrid Energy System. Sun Bandit® patented technologies eliminates the need for complex solar mechanical water heating and replaces it with clean, simple to install and easy to enjoy PV technology to effectively and efficiently provide hot water. With advance micro grid technology and design, Sun Bandit® can deliver hot water even when the grid goes down. Sun Bandit® is the simplest solar hot water solution on the market, providing the most easy-to-use and economical way to go solar.
Bonfiglioli designs and manufactures a variety of products for renewable energy applications including inverters for utility-scale solar PV installation, yaw and pitch drives for wind turbines, and mechatronic solutions for hybrid and electric vehicles (consumer and commercial). Worldwide, over 2GW are installed with Bonfiglioli PV inverters and one of every three wind turbines has a Bonfiglioli gearbox. We are commtted to solutions that reduce emissions for a cleaner, brighter future for all.
Designed and manufactured in the U.S., the AllSun Tracker is a complete grid-tied, dual-axis solar electric system that produces up to 45% more electricity than fixed systems. The tracker uses GPS and wireless technology to follow the sun throughout the day for optimal energy production. It has an industry-leading 10 year warranty and 120 mph wind rating, superior snow shedding, and automatic high wind protection. Its simple, durable design and complete system pallet simplifies costly procurement and installation time. Contact us about becoming a dealer partner.
Equipped with an extremely low power, smart interface the Smart SMP pyranometers offer industry standard digital and amplified analog outputs within the well-known CMP series housings. The output range is programmed so that all SMP pyranometers have identical sensitivities, allowing easy installation and exchange for recalibration. Serial communication allows access to measurement data, instrument status, operating parameters and calibration history. Building on the proven CMP Series design and technology that is used around the world, the new SMP pyranometers add digital signal processing and interfaces optimised for industrial data acquisition and control systems.
AEE Solar was founded by David Katz 1979 as Alternative Energy Engineering with the goal of bringing renewable, non-polluting power to homes and businesses in the northern California coastal redwood region. Thirty years later, AEE continues to deliver the products, training and support needed to succeed. We supply resellers, contractors, integrators, and installers the field-tested, reliable products they need to design, install and maintain renewable energy systems.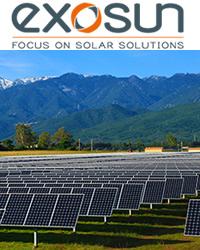 Global leader, Exosun designs, develops and supplies highly reliable and robust solar tracking systems for utility-scale PV plants, delivered with a full range of engineering support services. Its flagship product, the Exotrack® HZ horizontal single-axis tracker, increases plant production up to 25% in comparison to fixed-tilt systems and is a genuine revenue booster for your solar project. UL 3703 compliant, Exotrack® HZ has been designed for fast and simple installation, as well as for minimal preventive operation and maintenance actions. Its unique centralized control-command system can monitor up to 8 MWp of trackers. Exotrack® HZ's intelligent patented tracking process, called SMARTracking™, allows to generate up to 5% higher yield than any other single-axis tracker technology.
The FlexRack Series G3L is the latest fixed tilt racking system from Solar FlexRack. This system offers the speed and ease of installation unlike any on the market today. The system ships in a pre-assembled folded position and is simply unfolded and set into place on the jobsite. The speed of installation for the FlexRack Series G3L has been verified by a third party industrial time study institute. The FlexRack Series G3L offers unique module mounting options which allow the installer to use clips, direct bolt, or a combination of both for a flexible module mounting solution. The FlexRack Series G3L also offers integrated bonding and wire management options. Stop by our booth to see a demo of the FlexRack Series G3L and learn about our full product line of racking innovations.
AET's solar mounting ECO series includes all the features their customer's love about their racking solutions in a cost competitive package. • Industry-leading installation time • 2-high portrait design optimized for maximum panels per post based on wind and snow conditions • Designed for cost-driven projects • HIGH shipping density, DRAMATICALLY lowers freight bills • Fits all panels available today • Single point connection to system ground • Full layout and loading analysis for every project • Galvanized for corrosion resistance • Lightweight for easy handling on the job site. Contact AET sales at 586.466.5073 or info@AETenergy.com for more information.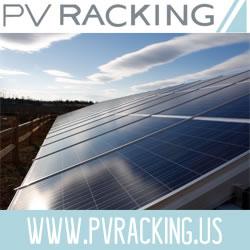 Looking for a way to save up to 30% on installation costs? PV Racking delivers a completely clamp-free racking system that does just that. This unique design offers more secure module placement, faster installation, lower labor costs and superior appearance. Helical pier foundations, kit solutions, installation services and full engineering support available. All PV Racking systems come with a 15 year Limited Warranty.
E-Mount features Quick Mount PV's patented QBlock Elevated Water Seal Technology to provide superior waterproofing and fast, single bolt installation on composition/asphalt shingle roofs. Similar to QMPV's best-selling Classic Composition Mount, E-Mount uses a smaller, lighter flashing and is priced to compete in highly competitive markets. All stainless steel hardware included. Made in the USA.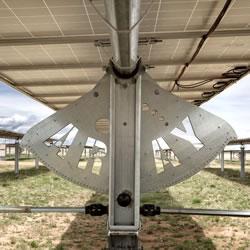 With more than 2 gigawatts shipped around the world and 25 years of experience, Array Technologies, Inc. (ATI) ensures value, reliability, and bankability for your solar project through its proven ground mount tracking and racking solutions. ATI's leading products, DuraTrack HZ single-axis horizontal solar tracker and DuraRack fixed-tilt rack, combine a minimization of materials with rugged reliability to promote rapid installation times and project longevity. From the frozen tundra of Alaska to the deserts of Chile, ATI provides high quality solar tracking and racking solutions for every location and environment. ATI's industry-leading engineering and project management is included with each utility-scale and commercial project to provide a fully-supported and customized solution for your project. For more information on our products and services, please stop by Intersolar North America booth 9725.