Alternative Energy Hot Products - Solar Energy
GreenFasten™ solar panel roof mount hardware by EcoFasten Solar® is designed and manufactured in the USA from recycled materials, features a patented watertight bushing, utilizes lag bolts to secure to the roof, has IAPMO certification, is one of the fastest attachment points to install in the industry, can be used for retrofit applications without removing shingles, available in a variety of configurations, can be customized to fit any proprietary hardware on the market and meets ARRA standards.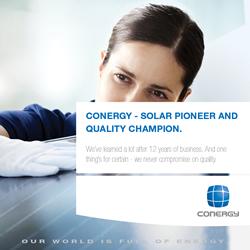 Conergy is a German-based solar company with subsidiaries all over the world – and what you would call a complete all-rounder. We have mastered every aspect of photovoltaics, becoming the player for complete solutions and services from a single source. For our customers and partners this means: more peace of mind, more output, more service. Since our foundation in 1998 we have advised more than 10,000 customers around the globe and provided more than 2 gigawatts of solar module capacity. We have learned a lot in the process – about sun, wind and weather on all five continents. And about the high standards required by our international customers. Today, we can offer any private customer, enterprise and investor all-round peace of mind, from small solar installations on residential buildings to medium-sized systems on commercial and industrial buildings and up to the biggest multi-megawatt free-field installations.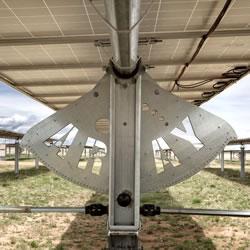 A perfect blend of industry leading technology and cost-saving elements, ATI's DuraRack fixed-tilt mounting system has proven itself as the premiere fixed-tilt system of the future. You will find many of the same patented features that make our DuraTrack™ HZ single-axis solar tracker the most widely deployed tracker in the world. Several of DuraRack's leading product features include the lowest number of posts per module, an all-bolted coupler solution that eliminates the need for field welding, customizable tilt angles between 10° and 40°, the industries' fastest install rates, and is available in portrait or landscape module configurations. With more than 53 MW installed at five different sites in just under six months, DuraRack is ramping up to become a leading solution for fixed-tilt ground mount sites across the solar industry.
E-Mount features Quick Mount PV's patented QBlock Elevated Water Seal Technology to provide superior waterproofing and fast, single bolt installation on composition/asphalt shingle roofs. Similar to QMPV's best-selling Classic Composition Mount, E-Mount uses a smaller, lighter flashing and is priced to compete in highly competitive markets. All stainless steel hardware included. Made in the USA.
Unirac leads the PV mounting market with industry-leading technology and a breadth of product solutions and services designed to meet the needs of any type of solar installation. We start with the voice of the customer. Unirac collaborates with installers and system integrators who work with a variety of structures and PV modules, in order to deliver mounting solutions that offer the freedom and flexibility, along with the speed, ease and low cost of installation they are looking for. By partnering with the industry's premier integrators and distributors, Unirac delivers custom-designed solutions using highly engineered mounting technology, backed by excellent end-to-end technical support.
AEE Solar was founded by David Katz 1979 as Alternative Energy Engineering with the goal of bringing renewable, non-polluting power to homes and businesses in the northern California coastal redwood region. Thirty years later, AEE continues to deliver the products, training and support needed to succeed. We supply resellers, contractors, integrators, and installers the field-tested, reliable products they need to design, install and maintain renewable energy systems.
Equipped with an extremely low power, smart interface the Smart SMP pyranometers offer industry standard digital and amplified analog outputs within the well-known CMP series housings. The output range is programmed so that all SMP pyranometers have identical sensitivities, allowing easy installation and exchange for recalibration. Serial communication allows access to measurement data, instrument status, operating parameters and calibration history. Building on the proven CMP Series design and technology that is used around the world, the new SMP pyranometers add digital signal processing and interfaces optimised for industrial data acquisition and control systems.
Roof Mount PV module mounting systems feature a unique pre-assembled, unfolding design installs quickly and easily. Solar FlexRack is the clear choice for PV panel installations. SFR solar panel roof mount systems are fast and easy to install. They're durable and are certified to withstand heavy wind, rain and snow loads.
Joyce/Dayton offers a complete line of solar tracking drive jacks specifically designed for heavy-duty tracking applications. These jacks position loads at speeds typical of the solar industry. They include an integrated trunnion mount for simplified mounting, cast aluminum housing for corrosion resistance, and optimized drive efficiency for reduced operating costs. Available in acme screw and ball screw models, their flexible design can be modified to your load, speed and travel distance requirements. A full line of solar tracking drive actuators (SA) capable of moving loads up to 2000-pounds is also available. These self-locking DC powered actuators feature self-aligning clevis bearings, are lubricated for life and ideal for rugged outdoor environments. They have an IP65 rating and adjustable double clevis mounts. Available in 24 VDC and 36 VDC they have stroke lengths of 450 mm (18"), 600 mm (24"), 900 mm (36").
AET's solar mounting ECO series includes all the features their customer's love about their racking solutions in a cost competitive package. • Industry-leading installation time • 2-high portrait design optimized for maximum panels per post based on wind and snow conditions • Designed for cost-driven projects • HIGH shipping density, DRAMATICALLY lowers freight bills • Fits all panels available today • Single point connection to system ground • Full layout and loading analysis for every project • Galvanized for corrosion resistance • Lightweight for easy handling on the job site. Contact AET sales at 586.466.5073 or info@AETenergy.com for more information.
Mersen extends its HelioProtection® Program with the addition of PV String Monitoring Cards to its dedicated offering of photovoltaic products. In order to guarantee long term power performance in mid- and large-scale photovoltaic (PV) installations, it is mandatory to properly monitor the production of the installation over time, at the string level. String level monitoring is guaranteed to maximize energy production, optimize facility management, and decrease operations and maintenance costs.