Alternative Energy Hot Products - Solar Energy
Joyce/Dayton offers a complete line of solar tracking drive jacks specifically designed for heavy-duty tracking applications. These jacks position loads at speeds typical of the solar industry. They include an integrated trunnion mount for simplified mounting, cast aluminum housing for corrosion resistance, and optimized drive efficiency for reduced operating costs. Available in acme screw and ball screw models, their flexible design can be modified to your load, speed and travel distance requirements. A full line of solar tracking drive actuators (SA) capable of moving loads up to 2000-pounds is also available. These self-locking DC powered actuators feature self-aligning clevis bearings, are lubricated for life and ideal for rugged outdoor environments. They have an IP65 rating and adjustable double clevis mounts. Available in 24 VDC and 36 VDC they have stroke lengths of 450 mm (18"), 600 mm (24"), 900 mm (36").
GreenFasten™ solar panel roof mount hardware by EcoFasten Solar® is designed and manufactured in the USA from recycled materials, features a patented watertight bushing, utilizes lag bolts to secure to the roof, has IAPMO certification, is one of the fastest attachment points to install in the industry, can be used for retrofit applications without removing shingles, available in a variety of configurations, can be customized to fit any proprietary hardware on the market and meets ARRA standards.
The Rayport AET-430 is the first and only Stainless Steel PV roof mounting system available in the US and Canada. The Rayport is wind-tunnel tested to 120mph and has provisions for direct mount to the roof. Integrated grounding clips and fasteners, along with only 3 part numbers to order contribute to industry-leading assembly times. Rayport fits most framed PV panels along with many frameless panels. Panels are aligned in landscape at a 10 degree tilt and also include EPDM rubber feet under each tray.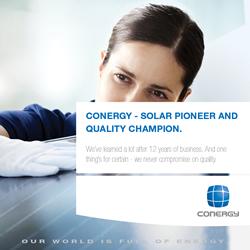 Conergy is a German-based solar company with subsidiaries all over the world – and what you would call a complete all-rounder. We have mastered every aspect of photovoltaics, becoming the player for complete solutions and services from a single source. For our customers and partners this means: more peace of mind, more output, more service. Since our foundation in 1998 we have advised more than 10,000 customers around the globe and provided more than 2 gigawatts of solar module capacity. We have learned a lot in the process – about sun, wind and weather on all five continents. And about the high standards required by our international customers. Today, we can offer any private customer, enterprise and investor all-round peace of mind, from small solar installations on residential buildings to medium-sized systems on commercial and industrial buildings and up to the biggest multi-megawatt free-field installations. And why can we do that? Because as a pioneer we helped to build the photovoltaics sector, making solar power available to people all over the world. As Conergy has developed we have accumulated an unrivalled wealth of experience, making us the leading provider of PV system components, services and turnkey solar solutions today. Whichever solar system you are planning, Conergy will not only provide you with a complete system solution, but can also offer single components, a variety of accessories and perfectly matched services. As usual, everything comes in outstanding Conergy quality. By partnering with Conergy you have access to a complete portfolio of premium products from the industry's leading manufacturers. You will have a dedicated account team, including account and sales representatives, technical and customer service experts and credit managers, all of whom are dedicated to the success of your business. In addition to the on-going support that your Conergy team offers, Conergy also provides commercial system financing programs designed to help you close more business.
Unirac leads the PV mounting market with industry-leading technology and a breadth of product solutions and services designed to meet the needs of any type of solar installation. We start with the voice of the customer. Unirac collaborates with installers and system integrators who work with a variety of structures and PV modules, in order to deliver mounting solutions that offer the freedom and flexibility, along with the speed, ease and low cost of installation they are looking for. By partnering with the industry's premier integrators and distributors, Unirac delivers custom-designed solutions using highly engineered mounting technology, backed by excellent end-to-end technical support.
Ecofoot2 combines the key components of the original Ecofoot—speed, low-parts count, and cost effectiveness—with integrated grounding, wire management and increased weatherability. Speed and simplicity installers love. One main component with easy to use Eco Mid clamp integrates the grounding while expediting the installation process. Roof friendly features insurers and property owners' desire. Built in water channels and drainage, combined with core materials of polymer and rubber make Ecofoot2 a roof's best friend. Proven durability projects require. ASA Luran by Styrolutions, a joint venture of BASF & INEOS ensures Ecofoot2 will stand tall against the elements in the toughest environments. Cost savings that make projects possible. By implementing integrated grounding with wire management, Ecofoot2 offers the lowest cost per watt through quick installations and low part count.
Equipped with an extremely low power, smart interface the Smart SMP pyranometers offer industry standard digital and amplified analog outputs within the well-known CMP series housings. The output range is programmed so that all SMP pyranometers have identical sensitivities, allowing easy installation and exchange for recalibration. Serial communication allows access to measurement data, instrument status, operating parameters and calibration history. Building on the proven CMP Series design and technology that is used around the world, the new SMP pyranometers add digital signal processing and interfaces optimised for industrial data acquisition and control systems.
Panasonic provides a full range of renewable energy and energy efficiency solutions and is aware that there's a funding and implementation gap for solar PV projects up to 20 MW. And that's why Panasonic has established a strategic relationship with Coronal Management, a prominent solar finance and asset management firm. Together, they are delivering the first truly comprehensive end-to-end solution to facilitate the development and commercialization of solar PV projects in the commercial, industrial, municipal and small utility markets. From inception to commercial operation and beyond, capabilities include construction and permanent financing, project implementation and long term service and maintenance.