Hot Stories
Google Invests $280 Million in SolarCity Project Finance Fund
Submitted on 06/14/11, 04:22 PM | Click Here for the full article: Bloomberg

Google Inc. (GOOG) agreed to put $280 million in a new project financing fund for SolarCity Inc., a financier, installer and owner of rooftop photovoltaic systems, in the Internet search engine's biggest clean-energy investment. The deal with San Mateo, California-based SolarCity is also Google's first investment related to distributed solar energy, Rick Needham, the search engine's director of green business operations, said by telephone yesterday. The investment is a "quadruple-win" because it will enable more homeowners to lower their energy bills while also shifting to renewable energy, allow SolarCity to expand its business and facilitate wider deployment of solar, Needham said. Mountain View, California-based Google will also make a return on capital upfront, he said, since its investment is supported by the Treasury Department's cash grants program. As an alternative to tax credits, the program reimburses investors for 30 percent of project expenditures for solar. The program was created after the 2008 financial crisis to revive spending on clean energy. Projects must begin construction by the end of 2011 to be eligible.
Comments (0)
This story does not have any comments. Be the first to leave a comment below.
Post A Comment
You must be logged in before you can post a comment. Login now.
Featured Hot Product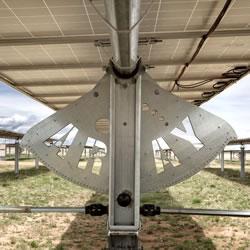 A perfect blend of industry leading technology and cost-saving elements, ATI's DuraRack fixed-tilt mounting system has proven itself as the premiere fixed-tilt system of the future. You will find many of the same patented features that make our DuraTrack™ HZ single-axis solar tracker the most widely deployed tracker in the world. Several of DuraRack's leading product features include the lowest number of posts per module, an all-bolted coupler solution that eliminates the need for field welding, customizable tilt angles between 10° and 40°, the industries' fastest install rates, and is available in portrait or landscape module configurations. With more than 53 MW installed at five different sites in just under six months, DuraRack is ramping up to become a leading solution for fixed-tilt ground mount sites across the solar industry.