Hot Stories
Japanese Breakthrough in Wind Turbine Design
Submitted on 12/12/11, 09:46 AM | Click Here for the full article: EnergyDigital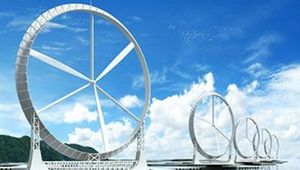 While energy from wind turbines currently accounts for less than one percent of total power generated in Japan, the new breakthrough in design provides ample reason to ramp up production. Called the 'Windlens,' Yuji Ohya, a professor of renewable energy dynamics and applied mechanics, and his team at Kyushu University have created a series of turbines that could make the cost of wind power less than coal and nuclear energy. The two major concerning issues with traditional turbines have been their general inefficiency and intolerable noise. However, Kyushu's researchers found that attaching an inward curving ring around the perimeter of a turbine's blades increases the focus of airflow faster through the blade zones at two to three times the speed as before. An improvement in safety from covering the outer edges of the blades and a reduction of the dreaded noise pollution of older models is just a bonus.
Comments (0)
This story does not have any comments. Be the first to leave a comment below.
Post A Comment
You must be logged in before you can post a comment. Login now.
Featured Hot Product
Joyce/Dayton offers a complete line of solar tracking drive jacks specifically designed for heavy-duty tracking applications. These jacks position loads at speeds typical of the solar industry. They include an integrated trunnion mount for simplified mounting, cast aluminum housing for corrosion resistance, and optimized drive efficiency for reduced operating costs. Available in acme screw and ball screw models, their flexible design can be modified to your load, speed and travel distance requirements. A full line of solar tracking drive actuators (SA) capable of moving loads up to 2000-pounds is also available. These self-locking DC powered actuators feature self-aligning clevis bearings, are lubricated for life and ideal for rugged outdoor environments. They have an IP65 rating and adjustable double clevis mounts. Available in 24 VDC and 36 VDC they have stroke lengths of 450 mm (18"), 600 mm (24"), 900 mm (36").