Hot Stories
U.S. Wind-Turbine Installations Rose 31% in 2011, AWEA Says
Submitted on 01/27/12, 12:54 PM | Click Here for the full article: Bloomberg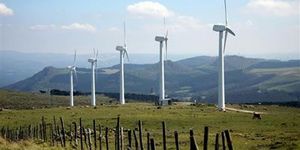 Developers installed wind turbines with capacity of 6,810 megawatts in the U.S. last year, 31 percent more than in 2010, as they rushed to qualify for a federal-tax grant that expired last month, according to an industry group. Fourth-quarter installations reached 3,444 megawatts, topping the first three quarters combined, led by California, Illinois and Ohio, the fastest-growing state, the American Wind Energy Association said today in a report. New wind farms with capacity of more than 8,300 megawatts are under construction now. Developers will try to complete them before another federal incentive expires Dec. 31. The Washington-based trade group is pressing Congress to extend the Production Tax Credit of 2.2 cents a kilowatt-hour for wind power to prevent manufacturers from firing workers by 2013.
Comments (0)
This story does not have any comments. Be the first to leave a comment below.
Post A Comment
You must be logged in before you can post a comment. Login now.
Featured Hot Product
Joyce/Dayton offers a complete line of solar tracking drive jacks specifically designed for heavy-duty tracking applications. These jacks position loads at speeds typical of the solar industry. They include an integrated trunnion mount for simplified mounting, cast aluminum housing for corrosion resistance, and optimized drive efficiency for reduced operating costs. Available in acme screw and ball screw models, their flexible design can be modified to your load, speed and travel distance requirements. A full line of solar tracking drive actuators (SA) capable of moving loads up to 2000-pounds is also available. These self-locking DC powered actuators feature self-aligning clevis bearings, are lubricated for life and ideal for rugged outdoor environments. They have an IP65 rating and adjustable double clevis mounts. Available in 24 VDC and 36 VDC they have stroke lengths of 450 mm (18"), 600 mm (24"), 900 mm (36").