Hot Stories
U.S. Wind-Turbine Installations Rose 31% in 2011, AWEA Says
Submitted on 01/27/12, 12:54 PM | Click Here for the full article: Bloomberg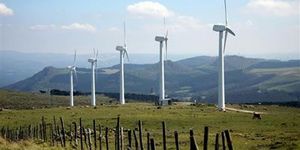 Developers installed wind turbines with capacity of 6,810 megawatts in the U.S. last year, 31 percent more than in 2010, as they rushed to qualify for a federal-tax grant that expired last month, according to an industry group. Fourth-quarter installations reached 3,444 megawatts, topping the first three quarters combined, led by California, Illinois and Ohio, the fastest-growing state, the American Wind Energy Association said today in a report. New wind farms with capacity of more than 8,300 megawatts are under construction now. Developers will try to complete them before another federal incentive expires Dec. 31. The Washington-based trade group is pressing Congress to extend the Production Tax Credit of 2.2 cents a kilowatt-hour for wind power to prevent manufacturers from firing workers by 2013.
Comments (0)
This story does not have any comments. Be the first to leave a comment below.
Post A Comment
You must be logged in before you can post a comment. Login now.
Featured Hot Product
Sun BanditŪ is a revolutionary new way in which solar is used to heat water. This innovative new technology utilizes PV technology to deliver clean, reliable hot water by putting the free energy of the sun to work for you in ways that makes owning a solar system more practical and affordable than ever before. Achieving energy independence has never been easier than with a Sun BanditŪ Solar Hybrid Energy System. Sun BanditŪ patented technologies eliminates the need for complex solar mechanical water heating and replaces it with clean, simple to install and easy to enjoy PV technology to effectively and efficiently provide hot water. With advance micro grid technology and design, Sun BanditŪ can deliver hot water even when the grid goes down. Sun BanditŪ is the simplest solar hot water solution on the market, providing the most easy-to-use and economical way to go solar.