Hot Stories
U.S. Wind-Turbine Installations Rose 31% in 2011, AWEA Says
Submitted on 01/27/12, 12:54 PM | Click Here for the full article: Bloomberg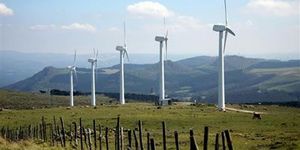 Developers installed wind turbines with capacity of 6,810 megawatts in the U.S. last year, 31 percent more than in 2010, as they rushed to qualify for a federal-tax grant that expired last month, according to an industry group. Fourth-quarter installations reached 3,444 megawatts, topping the first three quarters combined, led by California, Illinois and Ohio, the fastest-growing state, the American Wind Energy Association said today in a report. New wind farms with capacity of more than 8,300 megawatts are under construction now. Developers will try to complete them before another federal incentive expires Dec. 31. The Washington-based trade group is pressing Congress to extend the Production Tax Credit of 2.2 cents a kilowatt-hour for wind power to prevent manufacturers from firing workers by 2013.
Comments (0)
This story does not have any comments. Be the first to leave a comment below.
Post A Comment
You must be logged in before you can post a comment. Login now.
Featured Hot Product
CanWEA's 30th Annual Conference and Exhibition will be taking place October 27-30, 2014, at the Palais des Congrès de Montréal in the exciting city of Montréal, Québec. This premier event will bring together over 2,000 delegates and almost 200 exhibiting companies from around the globe to discuss opportunities and latest developments in Canada's emerging wind energy industry. The exhibition will provide an exclusive opportunity to network with leading industry decision makers and generate numerous high quality business leads. Our attendees are leaders in the wind industry, and are dedicated to supporting CanWEA's efforts to push forward wind energy industry policy, communications efforts and business development objectives.