Hot Stories
Lux Research Reveals 2011 Top 10 Module Manufacturers
Submitted on 03/16/12, 07:24 AM | Click Here for the full article: LUX Research
First Solar and Suntech led in module manufacturing in 2011 with both having around 2 GW of module production, according to Lux Research's latest Solar Supply Tracker. Crystalline silicon module prices continue to be at a record low with Tier 1 manufacturers selling around $0.9/W while Tier 2 and Tier 3 manufacturers sold at even lower rates to burn through their inventories and survive the current market conditions.
The top 10 companies added up to 12.5 GW of module production, a significant share at 44% of the 2011 total global module production.
Top 10 2011 Module Manufacturers (In Order)
First Solar - 7% - 2,001 MW
Suntech Power - 6.5% -1866 MW
Yingli Green Energy - 5.5% - 1,554 MW
Trina Solar - 4.9% - 1,395 MW
Canadian Solar - 4.8% - 1,363 MW
Sharp - 4.1% - 1,155 MW
Hanwha Solar One - 2.9% - 825 MW
Jinko - 2.8% - 782 MW
LDK Solar - 2.7% - 774 MW
SolarWorld - 2.7% - 767 MW
Comments (0)
This story does not have any comments. Be the first to leave a comment below.
Post A Comment
You must be logged in before you can post a comment. Login now.
Featured Hot Product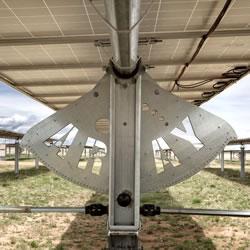 With more than 2 gigawatts shipped around the world and 25 years of experience, Array Technologies, Inc. (ATI) ensures value, reliability, and bankability for your solar project through its proven ground mount tracking and racking solutions. ATI's leading products, DuraTrack HZ single-axis horizontal solar tracker and DuraRack fixed-tilt rack, combine a minimization of materials with rugged reliability to promote rapid installation times and project longevity. From the frozen tundra of Alaska to the deserts of Chile, ATI provides high quality solar tracking and racking solutions for every location and environment. ATI's industry-leading engineering and project management is included with each utility-scale and commercial project to provide a fully-supported and customized solution for your project. For more information on our products and services, please stop by Intersolar North America booth 9725.