Hot Stories
U.S. Goes from Net Exporter to Net Importer of Solar Products in One Year;
Submitted on 03/01/12, 11:18 AM | Click Here for the full article: Coalition for American Solar Manufacturing
The United States' once-vaunted solar-industry trade surplus with China disappeared between 2010 and 2011, according to findings released today by the Coalition for American Solar Manufacturing (CASM). The U.S. solar industry had an estimated $1.6 billion trade deficit with China in 2011, after enjoying an estimated $250 million to $540 million surplus in 2010. CASM's findings are based on data from the U.S. Department of Commerce and the U.S. International Trade Commission (ITC), as well as a prior study by GTM Research.

"This new data, drawn from official government sources, finally buries the Chinese importers' tired, shop-worn and factually incorrect talking point that the U.S. solar industry has a trade surplus with China," said Gordon Brinser, president of SolarWorld Industries America Inc., the largest U.S. manufacturer of solar cells and panels. "Chinese importers often claim that the modest U.S. trade surplus in 2010 proved that China is not threatening the U.S. solar industry and economy. But it is no longer 2010, and any trade surplus is history. Illegal dumping by massively subsidized Chinese solar producers, combined with curbed exports of polysilicon and manufacturing equipment, are decimating U.S. solar manufacturers, the supply chain and their export business."
Comments (0)
This story does not have any comments. Be the first to leave a comment below.
Post A Comment
You must be logged in before you can post a comment. Login now.
Featured Hot Product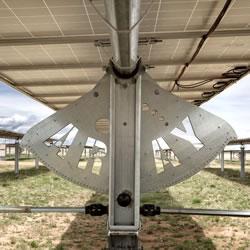 With more than 2 gigawatts shipped around the world and 25 years of experience, Array Technologies, Inc. (ATI) ensures value, reliability, and bankability for your solar project through its proven ground mount tracking and racking solutions. ATI's leading products, DuraTrack HZ single-axis horizontal solar tracker and DuraRack fixed-tilt rack, combine a minimization of materials with rugged reliability to promote rapid installation times and project longevity. From the frozen tundra of Alaska to the deserts of Chile, ATI provides high quality solar tracking and racking solutions for every location and environment. ATI's industry-leading engineering and project management is included with each utility-scale and commercial project to provide a fully-supported and customized solution for your project. For more information on our products and services, please stop by Intersolar North America booth 9725.