Hot Stories
Donald Trump to Scotland: Abandon 'monstrous' wind farm plans
Submitted on 04/26/12, 07:04 AM | Click Here for the full article: MSNBC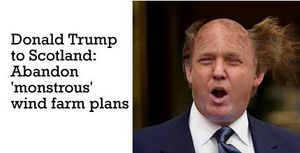 Donald Trump swept into Scotland's parliament on Wednesday to demand the country end plans for an offshore wind farm he fears will spoil the view at his exclusive new $1.2-billion golf resort.
In a typically blunt display, the property tycoon told an inquiry into renewable energy to stop the wind power efforts in the country's north.
"Scotland, if you pursue this policy of these monstrous turbines, Scotland will go broke," he said. "They are ugly, they are noisy and they are dangerous. If Scotland does this, Scotland will be in serious trouble and will lose tourism to places like Ireland, and they are laughing at us."
When challenged to produce hard evidence about his claims on the negative impact of turbines, Trump said: "I am the evidence, I am a world-class expert in tourism."
The public gallery burst into laughter.
Comments (0)
This story does not have any comments. Be the first to leave a comment below.
Post A Comment
You must be logged in before you can post a comment. Login now.
Featured Hot Product
The Zilla® Phantom™ is a revolutionary new rail-less solar mounting system. Building on the popular Zilla® Double Stud Flashing, the Phantom™ can mount anywhere on composite roofs, not just on joists. Additionally, the Zilla® Phantom™ streamlines distribution and transportation allowing for a safer, easier and more economical solar installation. The Phantom™ is a fully flashed and grounded system and includes everything necessary to complete a rooftop solar installation. The Zilla® Phantom™ affords unparalleled layout flexibility and field adjustability that simplify every step of the installation process. Visit ZillaRac.com to learn more.