Hot Stories
Asia Report: Solar Dumping Announcement Set for May 17
Submitted on 05/15/12, 10:11 AM | Click Here for the full article: Renewable Energy World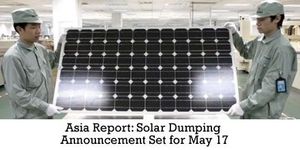 Seven months after a trade investigation was launched, American solar companies and Chinese solar manufacturers will finally get a clear picture of the challenges ahead.
SolarWorld's American operation led the filing of the complaint in October, making the case that Chinese manufacturers were getting an unfair level of subsidies from their government and they were then illegally dumping those products into the American market. The first phase of the ruling came down in March, and in that the Department of Commerce found an illegal level of subsidies. However, it preliminarily set the tariffs at between 2.9 and 4.73 percent.
A determination on the second of the two tariffs is set to be made on May 16 and announced on May 17. The history of international trade disputes suggests that the anti-dumping tariff, if one is set, is generally higher than the countervailing duty that measures the level of subsidies.
Comments (0)
This story does not have any comments. Be the first to leave a comment below.
Post A Comment
You must be logged in before you can post a comment. Login now.
Featured Hot Product
GreenFasten™ solar panel roof mount hardware by EcoFasten Solar® is designed and manufactured in the USA from recycled materials, features a patented watertight bushing, utilizes lag bolts to secure to the roof, has IAPMO certification, is one of the fastest attachment points to install in the industry, can be used for retrofit applications without removing shingles, available in a variety of configurations, can be customized to fit any proprietary hardware on the market and meets ARRA standards.