Hot Stories
National labs: Wind energy costs at or heading to all-time lows
Submitted on 06/11/12, 12:59 PM | Click Here for the full article: SNL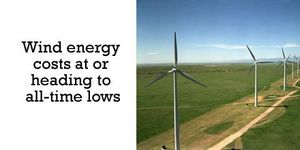 Most studies predict the cost of wind energy will continue to fall through at least 2030, said national laboratory staffers in a new report.
The report, "The Past and Future Cost of Wind Energy," released June 6, is a collaboration among workers from the Lawrence Berkeley National Laboratory and the National Renewable Energy Laboratory, with assistance from European researchers. The crux of the report is that while future trends, drivers and constraints are difficult to predict, the cost of wind-generated electricity will probably continue to decrease in the coming decades.
Onshore wind's levelized cost of energy, or LCOE, fell by a factor of more than three between 1980 and 2000, the researchers said. "However, beginning in about 2003 and continuing through the latter half of the past decade, wind power capital costs increased — driven by rising commodity and raw materials prices, increased labor costs, improved manufacturer profitability, and turbine upscaling — thus pushing wind's LCOE upward in spite of continued performance improvements," they said.
Comments (0)
This story does not have any comments. Be the first to leave a comment below.
Post A Comment
You must be logged in before you can post a comment. Login now.
Featured Hot Product
Trojanís Industrial Line of deep-cycle batteries is the newest addition to Trojanís lineage of high-quality flooded batteries for renewable energy and backup power applications. Designed to support large daily loads where the batteries are cycled regularly, Trojanís Industrial Line batteries are ideal solutions for a wide range of photovoltaic (PV) systems including large off-grid PV systems, off-grid hybrid PV systems, grid-tied PV systems with battery backup, smart grid peak shifting systems and a variety of other applications. Tested to meet both IEC and BCI standards, the Industrial Line features advanced battery technologies that deliver reliable power and is housed in a dual container construction for enhanced battery protection. Engineered for high-energy requirements, the Industrial line delivers 1,500 cycles at 80 percent depth-of-discharge and features advanced battery technologies that provide high performance.