Hot Stories
BrightSource shelves second major solar project this year
Submitted on 04/04/13, 06:24 AM | Click Here for the full article: Mercury News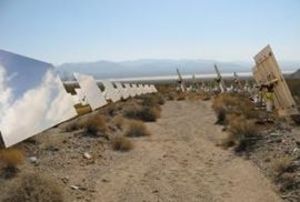 BrightSource Energy on Wednesday shelved a major solar power project in California for the second time this year.
In a document filed with the California Energy Commission, BrightSource said it "has determined there is a need to suspend" its application to permit the 500 megawatt Hidden Hills solar thermal power project until further notice.
The company did not give a reason for the suspension, and company officials were not immediately available for comment.
BrightSource, based in Oakland, said it will continue to evaluate the project, which was to be located in Inyo County near the Nevada border.
In January, BrightSource suspended its 500 MW Rio Mesa project in Riverside County, California after multiple delays in the permitting process.
Late last year, CEC staff said the Hidden Hills project would have "significant" impact on the environment, adding that the use of photovoltaic solar panels "would be environmentally superior" to BrightSource's solar thermal technology.
BrightSource disputed those claims at recent hearings, and the CEC was expected to issue a final decision on the project later this year.
Comments (0)
This story does not have any comments. Be the first to leave a comment below.
Post A Comment
You must be logged in before you can post a comment. Login now.
Featured Hot Product
Looking for a new DC ventilation fan? Backwoods is now manufacturing, here in the USA, a brushless 16 inch, 12/24 V ventilation fan. Our fan is designed to meet your needs every season, either in the greenhouse or as an attic install. Intended for use with 12 volt or 24 volt solar panels as low as 30 watts up to 280 watts and can be used in conjunction with 24 volt battery banks. It will also perform with 285-300 watt, 72 cell modules with open circuit voltages of 44 volts. The SF16 is protected from moderate over-voltage and thermal fluctuations. The Super Fan has been tested through a variety of panel and voltage configurations. We recommend three configurations for "small", "medium", and "large" applications. "Small": all 12 volt panels; a 30 watt solar module will provide an airflow of about 9 mph. "Medium": a 60 watt will produce up to 17 mph. "Large": a 135 watt or larger solar module will hit 18 mph and faster. The best thing about our new DC Super Fan is the brushless motor. Motor brush replacements were common on previous fans especially if they were run at high RPM's. With no brushes the SF16 will outperform other fans. Solve your circulation issue with this solar direct solution!