Hot Stories
BrightSource shelves second major solar project this year
Submitted on 04/04/13, 06:24 AM | Click Here for the full article: Mercury News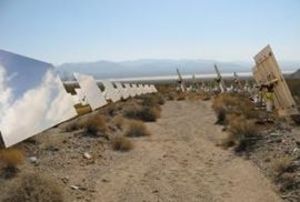 BrightSource Energy on Wednesday shelved a major solar power project in California for the second time this year.
In a document filed with the California Energy Commission, BrightSource said it "has determined there is a need to suspend" its application to permit the 500 megawatt Hidden Hills solar thermal power project until further notice.
The company did not give a reason for the suspension, and company officials were not immediately available for comment.
BrightSource, based in Oakland, said it will continue to evaluate the project, which was to be located in Inyo County near the Nevada border.
In January, BrightSource suspended its 500 MW Rio Mesa project in Riverside County, California after multiple delays in the permitting process.
Late last year, CEC staff said the Hidden Hills project would have "significant" impact on the environment, adding that the use of photovoltaic solar panels "would be environmentally superior" to BrightSource's solar thermal technology.
BrightSource disputed those claims at recent hearings, and the CEC was expected to issue a final decision on the project later this year.
Comments (0)
This story does not have any comments. Be the first to leave a comment below.
Post A Comment
You must be logged in before you can post a comment. Login now.
Featured Hot Product
WS501 series Compact Weather Stations for measuring of air temperature, relative humidity, solar radiation, air pressure, wind direction and wind speed. Relative humidity is measured by means of a capacitive sensor element; a precision NTC measuring element is used to measure air temperature. The world renowned technology of Kipp+Zonen CMP3 is integrated. Ultrasonic sensor technology is used to take wind measurements. Measurement output can be accessed by the following protocolls: UMB-Binary, UMB-ASCII, SDI-12, MODBUS. One external temperature or rain sensor is connectable. The WS503 is a similar sensor available with a tiltable pyranometer for plane of array measurements of solar panels efficiency. Surface temperature and rainfall accessory sensors are also available as add on to the weather station.