Hot Stories
After a building boom, solar energy's prospects now aren't as sunny
Submitted on 01/15/14, 06:24 AM | Click Here for the full article: LA Times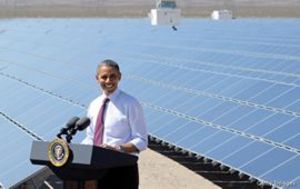 Five years after the Obama administration's renewable energy initiative touched off a building boom of large-scale solar power plants across the desert Southwest, the pace of development has slowed to a crawl, with a number of companies going out of business and major projects canceled for lack of financing.
Of the 365 federal solar applications since 2009, just 20 plants are on track to be built. Only three large-scale solar facilities have gone online, two in California and one in Nevada. The first auction of public land for solar developers, an event once highly anticipated by federal planners, failed to draw a single bid last fall.
Several factors are responsible, industry analysts say. The tight economy has made financing difficult to obtain, and the federal government has not said whether it will continue to offer tax credits of the size that brought a rush of interest in large-scale solar five years ago.
"I would say we are in an assessment period," said Amit Ronen, director of the George Washington University Solar Institute. "Nobody's going to break ground on any big new solar projects right now — utilities want to see how farms coming online this year fit into the grid, and developers are waiting for more certainty about state policies and federal tax credits."
Comments (0)
This story does not have any comments. Be the first to leave a comment below.
Post A Comment
You must be logged in before you can post a comment. Login now.
Featured Hot Product
WS501 series Compact Weather Stations for measuring of air temperature, relative humidity, solar radiation, air pressure, wind direction and wind speed. Relative humidity is measured by means of a capacitive sensor element; a precision NTC measuring element is used to measure air temperature. The world renowned technology of Kipp+Zonen CMP3 is integrated. Ultrasonic sensor technology is used to take wind measurements. Measurement output can be accessed by the following protocolls: UMB-Binary, UMB-ASCII, SDI-12, MODBUS. One external temperature or rain sensor is connectable. The WS503 is a similar sensor available with a tiltable pyranometer for plane of array measurements of solar panels efficiency. Surface temperature and rainfall accessory sensors are also available as add on to the weather station.