Who Let the Dogs Out?
The U.S. is now the world's top Wind Power Producer and closing in fast on Solar. The U.S. increased its wind capacity by 50 percent last year to a total of 25 GW, enough to power nearly 5 million homes. Germany took a close second with 24 GW of installed wind, while Spain took the third spot. Globally wind power grew by 29 percent, to reach 121 GW total capacity. As one of the most affordable sources of alternative energy -- being only slightly more expensive than coal and nuclear -- wind accounted for 42 percent of the new energy installations in the U.S.
Comments (1)
At my school, I am hoping to get solar power through a project that is run in the state of Wisconsin. This article will definitely help me as I go forward with this.
Post A Comment
You must be logged in before you can post a comment. Login now.
Featured Product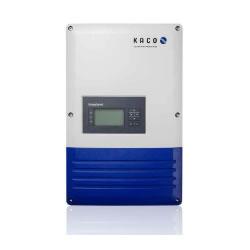 Small size, light weight, great features, best value! With a line-up of 1-phase transformerless units, KACO new energy will be inaugurating the new "blueplanet" solar PV inverter series. Newly designed and constructed from scratch, the blueplanet TL1 fulfil the highest requirements for optimum use in residential solar power plants.