Perovskite Offers Shot at Cheaper Solar Energy
A class of compounds first uncovered in the Ural Mountains more than a century ago is now a rock star in the world of solar-energy research.
Meet perovskite, the building block for materials that, as a group, have posted unprecedented gains in their solar-energy efficiency—the percentage of sunlight converted into electricity. In the lab, scientists experimenting with perovskite-based materials of different compositions have recently achieved a jump in efficiency to 20%, from around 10% just two years ago.
That is still lower than the most efficient silicon-based cells on the market— SunPower Corp. makes cells that are 24% efficient.
But because of perovskite's rapid increases in efficiency, researchers think it could be used to make cells that are at least as efficient as those fashioned from silicon, but at a much lower cost.
Comments (1)
It's great news to hear that more and more people are employed in the solar industry.. With the prices gradually falling, new user tools available, like the apps http://easysolar.co facilitating the design of the pv system it also gets much easier.. Hence, I hope that the prices will continue to fall and every citizen will manage to afford to install clean energy systems.
Post A Comment
You must be logged in before you can post a comment. Login now.
Featured Product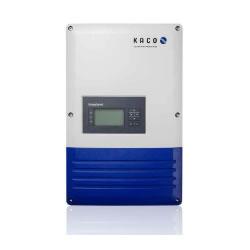 Small size, light weight, great features, best value! With a line-up of 1-phase transformerless units, KACO new energy will be inaugurating the new "blueplanet" solar PV inverter series. Newly designed and constructed from scratch, the blueplanet TL1 fulfil the highest requirements for optimum use in residential solar power plants.