'Mega' floating solar power plants open in Japan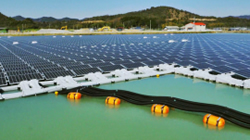 Two floating solar power plants capable of providing electricity for 1,000 homes have been completed in Japan.
The latest such "mega-plants" at Nishihira and Higashihira Ponds in Kato City are the work of electronics giant Kyocera Corporation and Century Tokyo Leasing Corporation, and took just seven months to install. The plant's 11,250 modules are expected to generate 3,300 megawatt hours (MWh) every year.
According to Kyocera, besides being typhoon-proof (due to their sturdy, high-density polyethylene and array design) floating solar plants are superior to their land-based equivalents because of the cooling effect of the water, which allows them to function more efficiently. Reservoirs are also an ideal location because the panels produce shade, which reduces water evaporation and promotes algae growth. A report by Korea Water Resources Corporation found that the lower temperatures of the floating modules mean they are 11 percent more efficient than land-based equivalents. The report identified unsolved issues with the plants, too, however. It said the study had to discard data collected when the panels moved in the wind, and said research into new mooring systems was "continually needed".
Comments (0)
This post does not have any comments. Be the first to leave a comment below.
---
Post A Comment
You must be logged in before you can post a comment. Login now.
Featured Product
The Sunny Boy 5.0-US / 6.0-US features a wealth of improvements and joins SMA's lineup of field-proven solar technology backed by the world's #1 service team. The world's first Secure Power Supply now delivers up to 2,000 W of opportunity power when the grid goes down and the sun is shining. Installation has never been easier thanks to SMA's Installation Assistant, direct access via smartphone, and integrated DC disconnect. The Sunny Boy's multiple independent input channels, each with SMA's OptiTrac™ Global Peak, mean hundreds of stringing configurations for flexible system design while solving the challenges of complex roofs and shading. The residential PV market is changing rapidly, and we understand that your bottom line matters more than ever. That's why we've designed a superior residential solution that will help you decrease costs throughout all stages of your business model. The Sunny Boy 5.0-US and 6.0-US are once again raising the bar by offering improved performance, enhanced features, and most importantly, cost savings across the entire spectrum of residential installation processes.