The $5 Billion Race to Build a Better Battery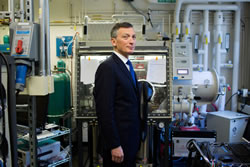 Professor Donald Sadoway remembers chuckling at an e-mail in August 2009 from a woman claiming to represent Bill Gates. The world's richest man had taken Sadoway's Introduction to Solid State Chemistry online, the message explained. Gates wondered if he could meet the guy teaching the popular MIT course the next time the billionaire was in the Boston area, Bloomberg Markets magazine will report in its May issue. "I thought it was a student prank," says Sadoway, who's spent more than a decade melting metals in search of a cheap, long-life battery that might wean the world off dirty energy. He'd almost forgotten the note when Gates's assistant wrote again to plead for a response.
A month later, Gates and Sadoway were swapping ideas on curbing climate change in the chemist's second-story office on the Massachusetts Institute of Technology campus. They discussed progress on batteries to help solar and wind compete with fossil fuels. Gates said to call when Sadoway was ready to start a company. "He agreed to be an angel investor," Sadoway says. "It would have been tough without that support."
Sadoway is ready. He and a handful of scientists with young companies and big backers say they have a shot at solving a vexing problem: how to store and deliver power around the clock so sustainable energies can become viable alternatives to fossil fuels. How these storage projects are allowing utility power customers to defect from the grid is one of the topics for debate this week at the Bloomberg New Energy Finance conference in New York. Today's nickel-cadmium and lithium-ion offerings aren't up to the task. They can't run a home for more than a few hours or most cars for more than 100 miles (160 kilometers). At about $400 per kilowatt-hour, they're double the price analysts say will unleash widespread green power. "Developing a storage system beyond lithium-ion is critical to unlocking the value of electric vehicles and renewable energy," says Andrew Chung, a partner at Menlo Park, California–based venture capital firm Khosla Ventures.
Comments (0)
This post does not have any comments. Be the first to leave a comment below.
---
Post A Comment
You must be logged in before you can post a comment. Login now.
Featured Product
Iron Edison's Lithium Iron battery is for solar PV energy storage and compatible with 12-volt, 24-volt and 48-volt battery-based inverters. Available in a wide range of residential storage capacities, custom high-voltage models are also available for commercial applications like peak load shaving and UPS. Iron Edison's battery uses Lithium Iron Phosphate cells (LiFePO4), known to be the safest type within the lithium-ion family. Iron Edison's battery includes an integrated Battery Management System and DC disconnect for maximum safety. All components are housed inside a steel enclosure with removable lid.