Berkeley lab unveils new solar energy center aimed at producing fuel from sunlight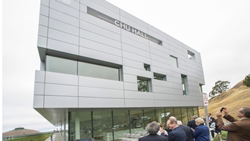 Jeremy Thomas for Inside Bay Area News:
In a christening hailed as a key moment in the effort to harness the sun's energy to create fuel, Lawrence Berkeley Lab officials on Tuesday unveiled a $59 million Solar Energy Research Center.
Named after former Energy Department Secretary and Lab Director Steven Chu, the 40,000-square-foot Chu Hall will be a place of world-changing research in producing cheaper, more efficient renewable energy to replace fossil fuels, said Chu, who was honored for inspiring the mission.
"This is one of the most important problems that science, technology and innovation really need to solve," Chu said. "It's a very big deal. ... We simply need to save the world, and it's going to be science that's going to be at the heart of that solution."
The facility will be home to the Berkeley hub of the Joint Center for Artificial Photosynthesis, a Department of Energy-funded collaboration led by the California Institute of Technology that is attempting to create solar fuel as plants do by using sunlight and other catalysts to split water into hydrogen and oxygen gas and convert carbon dioxide into liquid fuels such as methanol and ethanol. The byproduct of producing such a fuel would be oxygen.
Comments (0)
This post does not have any comments. Be the first to leave a comment below.
---
Post A Comment
You must be logged in before you can post a comment. Login now.
Featured Product
Please join Parker's Energy Platform Solutions team at the upcoming Solar Power International show, September 10-13 at Mandalay Bay Convention Center in Las Vegas, NV. Our offering features a compact outdoor Power Conversion/Energy Storage System, complemented by an outdoor central solar inverter, both employing two-phase evaporative liquid cooling technology and modular compact designs. We will also feature axis tracker solutions with our hybrid actuator system that uses an intelligent position feedback sensor, as well as our independent wireless condition monitoring sensors for hydraulic pressure. To learn more about what we will display and launch at SPI, please click on the product sections below.