Berkeley lab unveils new solar energy center aimed at producing fuel from sunlight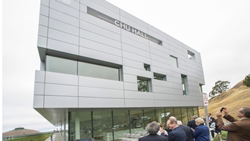 Jeremy Thomas for Inside Bay Area News:
In a christening hailed as a key moment in the effort to harness the sun's energy to create fuel, Lawrence Berkeley Lab officials on Tuesday unveiled a $59 million Solar Energy Research Center.
Named after former Energy Department Secretary and Lab Director Steven Chu, the 40,000-square-foot Chu Hall will be a place of world-changing research in producing cheaper, more efficient renewable energy to replace fossil fuels, said Chu, who was honored for inspiring the mission.
"This is one of the most important problems that science, technology and innovation really need to solve," Chu said. "It's a very big deal. ... We simply need to save the world, and it's going to be science that's going to be at the heart of that solution."
The facility will be home to the Berkeley hub of the Joint Center for Artificial Photosynthesis, a Department of Energy-funded collaboration led by the California Institute of Technology that is attempting to create solar fuel as plants do by using sunlight and other catalysts to split water into hydrogen and oxygen gas and convert carbon dioxide into liquid fuels such as methanol and ethanol. The byproduct of producing such a fuel would be oxygen.
Comments (0)
This post does not have any comments. Be the first to leave a comment below.
---
Post A Comment
You must be logged in before you can post a comment. Login now.
Featured Product
The Sunny Boy 5.0-US / 6.0-US features a wealth of improvements and joins SMA's lineup of field-proven solar technology backed by the world's #1 service team. The world's first Secure Power Supply now delivers up to 2,000 W of opportunity power when the grid goes down and the sun is shining. Installation has never been easier thanks to SMA's Installation Assistant, direct access via smartphone, and integrated DC disconnect. The Sunny Boy's multiple independent input channels, each with SMA's OptiTrac™ Global Peak, mean hundreds of stringing configurations for flexible system design while solving the challenges of complex roofs and shading. The residential PV market is changing rapidly, and we understand that your bottom line matters more than ever. That's why we've designed a superior residential solution that will help you decrease costs throughout all stages of your business model. The Sunny Boy 5.0-US and 6.0-US are once again raising the bar by offering improved performance, enhanced features, and most importantly, cost savings across the entire spectrum of residential installation processes.