MIT Group Used Solar Energy To Make Salty Water Drinkable In Off-Grid Areas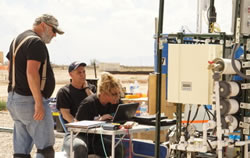 By Eleanor Goldberg for The Huffington Post:
​While there are many technologies out there than can effectively remove salt from water to make it drinkable, most are expensive and rely heavily on electricity –- rendering them all but useless in remote, off-grid villages.
That's why a group of engineers from MIT, backed by Jain Irrigation Systems, set out to invent a system that relies on solar energy to bring clean drinking water to rural areas in India, The Washington Post reported.
About 21 percent of India's communicable diseases are related to unsafe water, according to the World Bank. According to MIT researchers 60 percent of India has brackish groundwater -- while not toxic, that water is too salty to be ideal for human consumption.
The group, which took home the first-place Desal Prize last month in the "Securing Water for Food" challenge, used a method called electrodialysis, which relies on electricity and ultraviolet rays, according to the aid organization.
The first-place winners were awarded a $140,000 grant.
Cont'd...
Comments (0)
This post does not have any comments. Be the first to leave a comment below.
---
Post A Comment
You must be logged in before you can post a comment. Login now.
Featured Product
Visit Booth #2886 at AWEA Windpower, May 22-25 in Anaheim, CA to see how Parker products, systems and services help you raise performance while reducing risk in wind energy environments. Parker has been on the forefront of windpower for over two decades, with solutions that touch virtually every critical function in the turbine. From integrated lube oil filtration systems and sealing technologies that make drive trains more reliable and bearings operate like new to compact blade pitch actuation systems that maximize rotor efficiency and minimize vibrations in the turbine. Parker has the solutions that make today's advanced and sophisticated wind power plants better and smarter. Case in point? Our high efficiency power conversion systems that deliver optimum power to the grid. While our scalable evaporative cooling system lowers overall system cost with up to 40% higher power throughput.