MIT Group Used Solar Energy To Make Salty Water Drinkable In Off-Grid Areas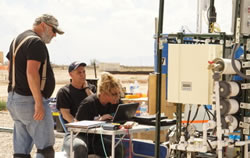 By Eleanor Goldberg for The Huffington Post:
​While there are many technologies out there than can effectively remove salt from water to make it drinkable, most are expensive and rely heavily on electricity –- rendering them all but useless in remote, off-grid villages.
That's why a group of engineers from MIT, backed by Jain Irrigation Systems, set out to invent a system that relies on solar energy to bring clean drinking water to rural areas in India, The Washington Post reported.
About 21 percent of India's communicable diseases are related to unsafe water, according to the World Bank. According to MIT researchers 60 percent of India has brackish groundwater -- while not toxic, that water is too salty to be ideal for human consumption.
The group, which took home the first-place Desal Prize last month in the "Securing Water for Food" challenge, used a method called electrodialysis, which relies on electricity and ultraviolet rays, according to the aid organization.
The first-place winners were awarded a $140,000 grant.
Cont'd...
Comments (0)
This post does not have any comments. Be the first to leave a comment below.
---
Post A Comment
You must be logged in before you can post a comment. Login now.
Featured Product
The FCL model split-core current transformers have multiple benefits, including a flexible twisting motion for ease of application. Installing a split-core CT means there is no need to disconnect your primary conductor(s) which reduces downtime. Many customizations are available including extended secondary lead wire lengths, various outputs including 5A, 1A, 1VAC, and 0.333VAC, and custom rubber inserts to help center the CT and maintain accuracy. The FCL models can be used in applications up to 720VAC and have an operating frequency from 50Hz to 400Hz.