Tesla's New Powerwall Packs a Powerful Punch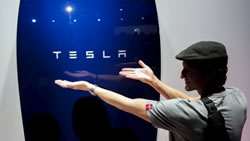 Ryan Wallace for The Science Times: Known as the "Powerwall", Tesla's newest invention is a thin, wall-mounted battery that is the size of a flat screen TV. And with this new battery home owners who have already invested in solar power will be able to entirely go off the grid, and even to sell their excess solar juice back to energy companies.
Developed in conjunction with the lithium-ion batteries that Tesla uses for its electric vehicles, the Powerwall unit is an inexpensive unit, only running $3,000 to $3,500, and with it Musk and his companies believe that humans may one day be able to transition to solely using energy derived from the Sun. Though the installation may look like an artpiece, it packs quite a punch at 10 kWh, and with it consumers will not only be able to store their energy for dark solar-free nights, but also more efficiently contribute to global energy use by contributing carbon-free energy back into the mix.
Comments (0)
This post does not have any comments. Be the first to leave a comment below.
---
Post A Comment
You must be logged in before you can post a comment. Login now.
Featured Product
Iron Edison's Lithium Iron battery is for solar PV energy storage and compatible with 12-volt, 24-volt and 48-volt battery-based inverters. Available in a wide range of residential storage capacities, custom high-voltage models are also available for commercial applications like peak load shaving and UPS. Iron Edison's battery uses Lithium Iron Phosphate cells (LiFePO4), known to be the safest type within the lithium-ion family. Iron Edison's battery includes an integrated Battery Management System and DC disconnect for maximum safety. All components are housed inside a steel enclosure with removable lid.