This cloudy-day black silicon solar cell can hit a record 22.1% efficiency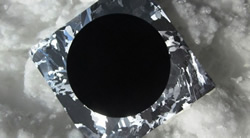 Researchers at Finland's Aalto University have achieved a record-breaking 22.1% efficiency for a nanostructured silicon, or black, solar cell. They accomplished this by overlaying a thin, passivating film on the nanostructures by a process known as atomic layer deposition, and by integrating all of the metal contacts on the cell's back side.
Perhaps the best part: Black solar cells work really well on cloudy days. "This is an advantage particularly in the north, where the sun shines from a low angle for a large part of the year," said professor Hele Savin from Aalto University, who coordinated the study, in a statement. "We have demonstrated that in winter Helsinki, black cells generate considerably more electricity than traditional cells, even though both cells have identical efficiency values."
Using the aforementioned process, the team managed to beat their previous record by almost 4%, which is a stunning achievement. The new cells have a certified external quantum efficiency of 96% at 300nm wavelengths, which the team said shows that charged carrier surface recombination is no longer a problem — and that for the first time, the black silicon isn't limiting energy conversion efficiency. And thanks to the inherent properties of black solar cells, they can capture solar radiation at low angles, generating more electricity over the full duration of a day as compared with traditional cells.
Comments (0)
This post does not have any comments. Be the first to leave a comment below.
---
Post A Comment
You must be logged in before you can post a comment. Login now.
Featured Product
Iron Edison's Lithium Iron battery is for solar PV energy storage and compatible with 12-volt, 24-volt and 48-volt battery-based inverters. Available in a wide range of residential storage capacities, custom high-voltage models are also available for commercial applications like peak load shaving and UPS. Iron Edison's battery uses Lithium Iron Phosphate cells (LiFePO4), known to be the safest type within the lithium-ion family. Iron Edison's battery includes an integrated Battery Management System and DC disconnect for maximum safety. All components are housed inside a steel enclosure with removable lid.