Used cigarette butts offer energy storage solution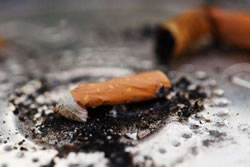 Scientists in South Korea have developed a new way to store energy that also offers a solution to a growing environmental problem.
Reporting their findings in the IOP Publishing journal Nanotechnology, the research team successfully converted used cigarette butts into a high performing material that could be integrated into computers, handheld devices, electric vehicles and wind turbines to store energy.
According to the study, this material outperforms commercially available carbon, graphene and carbon nanotubes. It may someday be used to coat the electrodes of supercapacitors: electrochemical components that can store extremely large amounts of electrical energy.
"Our study has shown that used cigarette filters can be transformed into a high performing carbon-based material using a simple one step process, which simultaneously offers a green solution for meeting the energy demands of society," says co-author Professor Jongheop Yi of Seoul National University.
Comments (0)
This post does not have any comments. Be the first to leave a comment below.
---
Post A Comment
You must be logged in before you can post a comment. Login now.
Featured Product
The Iron Edison Lithium Iron solar battery is fully compatible with popular battery-based inverters and is housed inside a rugged steel enclosure with integrated Battery Management System. Standard capacities range from 2 kWh to 42 kWh, with custom high-capacity and high-voltage models available for commercial applications like peak load shaving and UPS. The battery is designed and assembled at the company's headquarters just outside of Denver, Colorado. The Iron Edison Lithium Iron battery is an ideal replacement for lead-acid battery, with longer cycle life, smaller footprint, and maintenance-free operation. Residential applications include solar battery backup, grid-zero and off-grid energy storage. Commercial applications include high voltage battery backup, off-grid telecommunications power and peak load shaving. If you have any questions, please call us at 720-432-6433. We are happy to help!