Used cigarette butts offer energy storage solution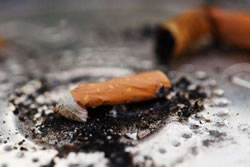 Scientists in South Korea have developed a new way to store energy that also offers a solution to a growing environmental problem.
Reporting their findings in the IOP Publishing journal Nanotechnology, the research team successfully converted used cigarette butts into a high performing material that could be integrated into computers, handheld devices, electric vehicles and wind turbines to store energy.
According to the study, this material outperforms commercially available carbon, graphene and carbon nanotubes. It may someday be used to coat the electrodes of supercapacitors: electrochemical components that can store extremely large amounts of electrical energy.
"Our study has shown that used cigarette filters can be transformed into a high performing carbon-based material using a simple one step process, which simultaneously offers a green solution for meeting the energy demands of society," says co-author Professor Jongheop Yi of Seoul National University.
Comments (0)
This post does not have any comments. Be the first to leave a comment below.
---
Post A Comment
You must be logged in before you can post a comment. Login now.
Featured Product
The Sunny Boy 5.0-US / 6.0-US features a wealth of improvements and joins SMA's lineup of field-proven solar technology backed by the world's #1 service team. The world's first Secure Power Supply now delivers up to 2,000 W of opportunity power when the grid goes down and the sun is shining. Installation has never been easier thanks to SMA's Installation Assistant, direct access via smartphone, and integrated DC disconnect. The Sunny Boy's multiple independent input channels, each with SMA's OptiTrac™ Global Peak, mean hundreds of stringing configurations for flexible system design while solving the challenges of complex roofs and shading. The residential PV market is changing rapidly, and we understand that your bottom line matters more than ever. That's why we've designed a superior residential solution that will help you decrease costs throughout all stages of your business model. The Sunny Boy 5.0-US and 6.0-US are once again raising the bar by offering improved performance, enhanced features, and most importantly, cost savings across the entire spectrum of residential installation processes.