"Designer carbon" boosts battery performance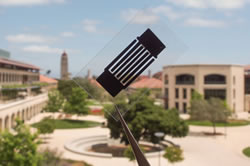 Mark Shwartz, Stanford Univ.:
Stanford Univ. scientists have created a new carbon material that significantly boosts the performance of energy-storage technologies. Their results are featured in ACS Central Science.
"We have developed a 'designer carbon' that is both versatile and controllable," said Zhenan Bao, the senior author of the study and a professor of chemical engineering at Stanford. "Our study shows that this material has exceptional energy-storage capacity, enabling unprecedented performance in lithium-sulfur batteries and supercapacitors."
According to Bao, the new designer carbon represents a dramatic improvement over conventional activated carbon, an inexpensive material widely used in products ranging from water filters and air deodorizers to energy-storage devices.
"A lot of cheap activated carbon is made from coconut shells," Bao said. "To activate the carbon, manufacturers burn the coconut at high temperatures and then chemically treat it."
The activation process creates nanosized holes, or pores, that increase the surface area of the carbon, allowing it to catalyze more chemical reactions and store more electrical charges.
Comments (0)
This post does not have any comments. Be the first to leave a comment below.
---
Post A Comment
You must be logged in before you can post a comment. Login now.
Featured Product
3M™ Extreme Sealing Tape is a family of single coated, pressure sensitive adhesive tapes designed for difficult sealing applications. The backing on this tape is an ionomer film that is very tough yet flexible and abrasion resistant. The very soft and thick acrylic adhesive has excellent sealing properties and good outdoor durability. This single coated tape is designed to seal over an existing joint, seam, or penetration. The adhesive is designed to adhere well to the ionomer film so that overlapping tape joints can be made while maintaining a strong seal. 3M™ Extreme Sealing Tape - instant sealing that rolls on fast and looks good.