"Designer carbon" boosts battery performance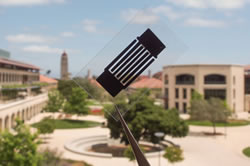 Mark Shwartz, Stanford Univ.:
Stanford Univ. scientists have created a new carbon material that significantly boosts the performance of energy-storage technologies. Their results are featured in ACS Central Science.
"We have developed a 'designer carbon' that is both versatile and controllable," said Zhenan Bao, the senior author of the study and a professor of chemical engineering at Stanford. "Our study shows that this material has exceptional energy-storage capacity, enabling unprecedented performance in lithium-sulfur batteries and supercapacitors."
According to Bao, the new designer carbon represents a dramatic improvement over conventional activated carbon, an inexpensive material widely used in products ranging from water filters and air deodorizers to energy-storage devices.
"A lot of cheap activated carbon is made from coconut shells," Bao said. "To activate the carbon, manufacturers burn the coconut at high temperatures and then chemically treat it."
The activation process creates nanosized holes, or pores, that increase the surface area of the carbon, allowing it to catalyze more chemical reactions and store more electrical charges.
Comments (0)
This post does not have any comments. Be the first to leave a comment below.
---
Post A Comment
You must be logged in before you can post a comment. Login now.
Featured Product
Sun Bandit® is a revolutionary new way in which solar is used to heat water. This innovative new technology utilizes PV technology to deliver clean, reliable hot water by putting the free energy of the sun to work for you in ways that makes owning a solar system more practical and affordable than ever before. Achieving energy independence has never been easier than with a Sun Bandit® Solar Hybrid Energy System. Sun Bandit® patented technologies eliminates the need for complex solar mechanical water heating and replaces it with clean, simple to install and easy to enjoy PV technology to effectively and efficiently provide hot water. With advance micro grid technology and design, Sun Bandit® can deliver hot water even when the grid goes down. Sun Bandit® is the simplest solar hot water solution on the market, providing the most easy-to-use and economical way to go solar.