Can bladeless wind turbines mute opposition?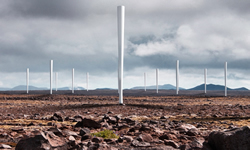 Dominic Bates for The Guardian:
A new bladeless wind turbine that promises to be more efficient, less visually intrusive, and safer for birdlife than conventional turbines has been welcomed by two of the UK wind energy industry's most vocal critics.
The RSPB and the Campaign to Protect Rural England (CPRE), which have both expressed concerns over the impacts of industrial-scale windfarms on the landscape and wildlife, said the new turbine was encouraging news for birds and had the potential to open up more urban environments to the sector.
The streamlined design contains no contacting moving parts, making it virtually noiseless and less prone to vibration. Vortex Bladeless, the turbine's Spanish developers, hopes these advantages could finally help usher in a viable consumer wind power market.
"Wind turbines now are too noisy for people's backyard," says David Suriol, who co-founded the company with Raul Martin and the turbine's inventor, David Yáñez. "We want to bring wind power generation to people's houses like solar power."
Comments (0)
This post does not have any comments. Be the first to leave a comment below.
---
Post A Comment
You must be logged in before you can post a comment. Login now.
Featured Product
The Seaward Solar PV210 PV installation tester provides a highly efficient and effective test and diagnostic solution for PV systems, carrying out all commissioning tests required by IEC 62446 and performing fast and accurate measurement of I-V curves in accordance with IEC 61829. With direct connection to individual PV modules or strings using the supplied lead sets, tests can be conducted easily and within a matter of seconds at the press of a single button.